Contact:
School of Peace Studies

Email: peacestudies@sandiego.edu
Phone: (619) 260-7919
Fax: (619) 849-8109

Location: KIPJ Room 113
Joan B. Kroc School of Peace Studies
5998 Alcala Park
San Diego, CA 92110
>
Biography
Debbie Martinez
Senior Program Officer for Youth and Peacebuilding
M.A. in International Human Rights, Josef Korbel School of International Studies, Univ of Denver
B.A. in Sociology and Global & International Studies, University of California, Santa Barbara
Debbie M. Martinez currently serves as program officer of WorldLink - a unique, year-round program at the Joan B. Kroc Institute for Peace & Justice (IPJ) that provides opportunities for youth from Southern California and Baja Mexico to meet world leaders and experts in global affairs.
After several trips to Central America, Debbie pursued a bachelor's degree in global and international studies and sociology at the University of California, Santa Barbara, with a minor in applied psychology. She received a master's in international human rights from the Josef Korbel School of International Studies (JKSIS) at the University of Denver, where she specialized in international administration, development and Latin America. She also received a certificate in humanitarian assistance, and participated in the Global Institute for Leadership and Civic Development Program in Panama City, Panama.
Debbie has worked as community relations coordinator for the Center on Rights Development, served as program assistant for Youth Policy Institute, worked as assistant to the CEO/President of Chamber of the Americas and interned for the U.S. Embassy in Tegucigalpa, Honduras. Debbie is originally from the San Fernando Valley, California.
Contact Information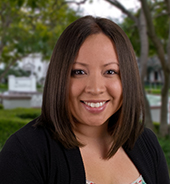 Email | dmartinez@sandiego.edu
Phone | (619) 260-7568
Office | KIPJ 115