Contact:
School of Peace Studies

Email: peacestudies@sandiego.edu
Phone: (619) 260-7919
Fax: (619) 849-8109

Location: KIPJ Room 113
Joan B. Kroc School of Peace Studies
5998 Alcala Park
San Diego, CA 92110
>
Biography
Chris Groth
Program Officer, Nepal Peacebuilding Initiative
Chris Groth is a program officer at the Joan B. Kroc Institute for Peace & Justice (IPJ), where he has provided support for the Nepal Peacebuilding Initiative since 2008. He has traveled to Nepal on eight occasions and has worked across the country with IPJ teams to conduct trainings on communication, negotiation and conflict resolution skills including army integration and community policing. He has documented the political and security situation in Nepal for publication in the IPJ's Peace & Justice Update and has co-authored articles on the peace process. Groth earned an M.A. in international relations from the University of San Diego and graduated cum laude from the University of California, Irvine, with degrees in social science and sociology.
Contact Information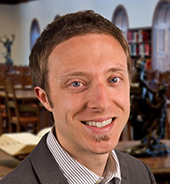 Email | cgroth-06@sandiego.edu
Phone | (619) 260-4066
Office | KIPJ 120