Contact:
School of Peace Studies

Email: peacestudies@sandiego.edu
Phone: (619) 260-7919
Fax: (619) 849-8109

Location: KIPJ Room 113
Joan B. Kroc School of Peace Studies
5998 Alcala Park
San Diego, CA 92110
>
Biography
Necla Tschirgi
Professor of Practice, Human Security and Peacebuilding
Advisor, Peace & Justice Minor
PhD Political Economy, University of Toronto
MA Political Science, American University of Beirut
BA Political Science, American University of Beirut
A native of Turkey, Necla Tschirgi, PhD, is a renowned expert in peacebuilding with an extensive international career spanning research, policy analysis, grantmaking, and teaching at the intersection of security and development. Tschirgi teaches graduate courses in post-conflict peacebuilding, international systems related to development and peacebuilding, and is the advisor for undergraduate students seeking a minor in peacebuilding and social innovation.
Prior to joining the Kroc School, Tschirgi served as an in-house consultant/senior policy advisor with the Peacebuilding Support Office at the U.N. Secretariat in New York and the vice president of the International Peace Academy (now the International Peace Institute) in New York, where she led the Security-Development Nexus research program. She served as a senior specialist with the International Development Research Centre and was instrumental in the creation of its Peacebuilding and Reconstruction Program.
Areas of Interest:
• Conflict prevention and mitigation
• Peacebuilding and post-conflict reconstruction
• Development and security
• Global governance
• Human security
Recent Publications:
Tschirgi, Necla and Richard Ponzio. "The Dynamics that Shaped the Establishment of the Peacebuilding Architecture in the Early Years." In UN Peacebuilding Architecture, edited by Cedric de Coning and Eli Stamnes. New York: Routledge, 2016.
Tschirgi, Necla. "Rebuilding War-Torn Societies: A Critical Review of International Approaches." In Managing Conflict in a World Adrift, edited by Chester Crocker, Pamela Aall, and Fen Hampson. Washington, D.C.: United States Institute of Peace Press, 2015.
Tschirgi, Necla and Cedric de Coning. "Ensuring Sustainable Peace: Strengthening Global Security and Justice through the UN Peacebuilding Architecture." Background Paper. Report of the Commission on Global Security, Justice & Governance. The Hague Institute for Global Justice, 2015.
Tschirgi, Necla. "The Securitisation of Peacebuilding." In Routledge Handbook of Peacebuilding, edited by Roger Mac Ginty. New York: Routledge, 2013.
Tschirgi, Necla, Michael S. Lund, and Francesco Mancini, eds. Security and Development: Searching for Critical Connections. Boulder, CO: Lynne Rienner Publishers, 2009.
Current Courses:
• Understanding the International System
• Post-conflict Peacebuilding
• Development and Conflict
Contact Information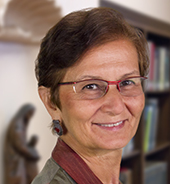 Email | neclatschirgi@sandiego.edu
Phone | (619) 260-7912
Office | KIPJ 125
Office Hours

Wednesday: 11am-12pm and 5:30-6:30pm
Thursday: 1-4pm
Students may also make an appointment.