Contact:
School of Peace Studies

Email: peacestudies@sandiego.edu
Phone: (619) 260-7919
Fax: (619) 849-8109

Location: KIPJ Room 113
Joan B. Kroc School of Peace Studies
5998 Alcala Park
San Diego, CA 92110
>
Biography
Dee Aker
Advisor for Strategic Peacebuilding
Dee Aker, PhD, is a psychological anthropologist and conflict resolution professional with 40 years of experience working in peacebuilding and conflict transformation in international settings. As part of the leadership of the Joan B. Kroc Institute for Peace and Justice (IPJ) since its inception in 2000, Aker created the Women PeaceMakers Program; the WorldLink Program, which connects youth to global affairs; and the Nepal Peacebuilding Initiative, among other field programs.
Aker has extensive experience in international higher education — including senior administration, curriculum development and teaching — in Kenya, England and the U.S. In her work with world-renowned psychologist Carl Rogers — at the Center for Studies of the Person, and the Carl Rogers Institute for Peace — she facilitated and mediated conflict transformation efforts in Europe and Central America. A former journalist, Aker produced and hosted a television series (consisting of more than 230 segments) interviewing women leaders and survivors of violence from around the world, and for several years had a monthly column on human rights and gender concerns. Aker was a Peace Corps volunteer in Colombia in the corps' early years, which she counts as the impetus to be involved in world events.
She has since worked across the globe to support the inclusion of the voices of women, youth and other marginalized communities, in discussions and decisions related to conflict resolution and sustainable peace — including designing and leading participatory trainings/workshops in communications, negotiations, skills-building and leadership. She believes strongly in participatory methodologies and a "whole community" approach to conflict transformation.
Aker's honors include the 2015 Eleanor Roosevelt Human Rights Award, from the San Diego Chapter of the United Nations Association and induction to the San Diego Women's Hall of Fame in 2014. She has received numerous recognitions from the University of San Diego for her service over the years, including the 2015 International Impact Award. In 2016 Aker was inducted into the United States International University-Africa's Hall of History for service as Vice-Chancellor from 1979 to 1984. She was the first Phillip Brooks House Fellow at Harvard University in 2007 to "share a distinguished public service career" with students and the university's Center for Public Interest.
Contact Information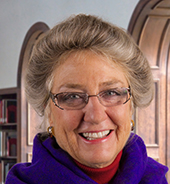 Email | daker@sandiego.edu
Phone | (619) 260-2358
Office | KIPJ 132