Contact:
School of Peace Studies

Email: peacestudies@sandiego.edu
Phone: (619) 260-7919
Fax: (619) 849-8109

Location: KIPJ Room 113
Joan B. Kroc School of Peace Studies
5998 Alcala Park
San Diego, CA 92110
>
Biography
William R. Headley, CSSp
Professor
PhD, Sociology, New York University
MEd, Counseling, University of South Carolina
BD, Theology, St. Mary's Seminary
BA, Philosophy, St. Mary's Seminary
William R. Headley, CSSp, PhD, is a sociologist, counselor, educator, and Catholic priest. He has a broad background in Church leadership, justice, peace and international aid with experience in over 80 countries. Bill was the Major Superior (1979-85) of the USA-Eastern Province of his Holy Spirit Community (Spiritans). Headley served on the Executive Committee, Conference of Major Superiors of Men, was the first President of the Africa Faith and Justice Network/USA, and was instrumental in starting the Washington Office on Haiti. In 1986, he conducted for Jesuit Refugee Services a study of Nairobi, Kenya's refugees and won a $50,000 service grant on the basis of the report.
From 1987 till 1992, Bill started and served in his Community's first International Justice and Peace Office (Rome, Italy). Haunted by ethnic conflict witnessed in Africa, Headley used a sabbatical to research grassroots efforts at peacemaking in Northern Ireland, Israel/Palestine, South Africa and Haiti.
In July 1993, Professor Headley established a graduate program in Conflict Resolution and Peace Studies at Duquesne University, Pittsburgh, PA. He was named Deputy Executive Director of Policy and Strategic Issues, Catholic Relief Services (CRS). As a peacebuilder, Bill has assisted conferences of bishops in Ghana, Nigeria, the Balkans, Sudan, Haiti and Burundi. Besides his advanced academic degrees, he did post-doctoral work at Harvard Divinity School, George Mason University's Institute for Conflict Analysis and Resolution and the Gandhi Peace Institute, New Delhi.
In August 2007, Bill became the founding Dean of the Joan B. Kroc School of Peace Studies at the University of San Diego, San Diego, CA. He received an Honorary Doctorate in Ministry from the Catholic Theological Union in Chicago, Illinois (2009), and an Honorary Doctorate of Humane Letters from St. Martin's University in Lacey, Washington (2010).
Bill returned to the graduate classroom as a full Professor of Peacebuilding during the spring semester 2013, following an international teaching/research sabbatical in Thailand, Egypt and Nepal. Our colleague holds a joint part-time appointment as a Professor of Practice, Kroc Institute of International Peace Studies, University of Notre Dame. Bill is enrolled in a program with the Living School at the Center for Action and Contemplation, Albuquerque, NM.
Areas of Interest:
• Religion and Peace
• Inter-religious Dialogue and Peacebuilding
• Qualitative Field Research
• Counseling and Advisement
• Peace Studies Programs: Their Organization and Management
Representative Field Service:
Over the last 11 years, Professor Headley has served both Catholic Relief Service and USD's School of Peace Studies as an administrator and peacebuilding practitioner Here are recent samples of his field work:
• Assessor of social cohesion and interreligious peacebuilding models and case studies conservatively estimated at $20 million U.S. and gleaned from worldwide peacebuilding initiatives of Catholic Relief Services (October 2015).
• Participated in a cross-cultural and inter-faith visit to Turkey under the leadership of the Sufi-inspired Pacifica Institute. A text used in a grad class for interreligious peacebuilding notes that Sufis are likely the best hope for inclusiveness and democracy within the Islamic community (Toft et al., God's Century, 173) (October, 2015).
• Consultant in the establishment of the Higher Institute for Peace and Reconciliation, Catholic University of Bukavu, a joint Initiative of the Catholic bishops of the Great Lakes Region, east central Africa ( May 2014-present)
• Professor of the Practice and field service officer for the Catholic Peacebuilding Network based at the Institute for International Peace Studies, University of Notre Dame (January 2013-present)
• Initiator and service provider for the creation of a series of consultancies, trainings and planning sessions for the Mexican Catholic Church in its effort to contribute to their country's national peace effort (September 2011- present).
• Member of the Justice and Peace Committee, Congregation of the Holy Spirit, U.S.A. Province (c. September 2015 – present)
Current Courses:
• Religion: Peacebuilding's Missing Dimension
• The Peacebuilder
• Warmongers and Peacebuilders: Religious Extremism
Contact Information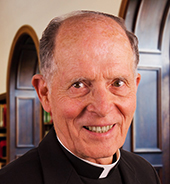 Email | wheadley@sandiego.edu
Phone | (619) 260-7918
Office | KIPJ 128
Office Hours

Tuesday: 8-10am
Wednesday: 9am-12pm
And by appointment