Contact:
School of Peace Studies

Email: peacestudies@sandiego.edu
Phone: (619) 260-7919
Fax: (619) 849-8109

Location: KIPJ Room 113
Joan B. Kroc School of Peace Studies
5998 Alcala Park
San Diego, CA 92110
>
Biography
Elena McCollim
Grant Proposal Manager
Elena McCollim is Grant Proposal Manager at the Joan B. Kroc School of Peace Studies at the University of San Diego, responsible for coordinating, facilitating and monitoring the Kroc School's overall grant submission strategy and administration in support of educational and programmatic priorities. Prior to her current position, McCollim worked for eight years in Washington, DC with a variety of nongovernmental organizations engaged in policy advocacy on international development issues. She worked most recently as a program manager at InterAction, a consortium including as member organizations Oxfam, CARE, World Vision, and Catholic Relief Services. Previously, McCollim was a policy analyst at Bread for the World Institute. She also lived in Mexico and traveled throughout Central America, teaching in a study abroad program for U.S. undergraduates through Augsburg University in Minneapolis, Minnesota.
McCollim has an M.A. in International Relations, with concentrations in International Economics and Social Change & Development, from Johns Hopkins/SAIS, and a B.A. in Development Studies from UC Berkeley, cum laude. She is bilingual in Spanish and English, and has lived in South America and traveled in southern Africa. She was a contributor to Peacebuilding 2.0: Mapping the Boundaries of an Expanding Field, a study published in 2012 by the Alliance for Peacebuilding with collaboration from the Joan B. Kroc Institute for Peace & Justice, and funded by the United States Institute of Peace. Other publications (authored or co-edited) include: Seeing Eye to Eye (InterAction and Just Associates, 2003), The Changing Politics of Hunger, (Bread for the World Institute, 1998), and A Program to End Hunger (Bread for the World Institute, 1999).
Contact Information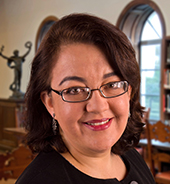 Email | emccollim@sandiego.edu
Phone | (619) 260-7573
Office | KIPJ 240