Contact:
School of Peace Studies

Email: peacestudies@sandiego.edu
Phone: (619) 260-7919
Fax: (619) 849-8109

Location: KIPJ Room 113
Joan B. Kroc School of Peace Studies
5998 Alcala Park
San Diego, CA 92110
>
Biography
Jennifer Freeman
Senior Program Officer for Women, Peace and Security
Jennifer Freeman, MA, oversees all programming related to the Women, Peace and Security initiative of the Joan B. Kroc Institute for Peace and Justice (IPJ). She directs the award-winning Women PeaceMakers Program, which documents the stories of women leaders in human rights and peacebuilding, and new initiatives including "Defying Extremism: Gendered Responses to Religious Violence." She teaches the course "War, Gender and Peacebuilding," in the Kroc School of Peace Studies, and represents the institute each year at the United Nations Commission on the Status of Women, among other international gatherings. Freeman first served the institute as program officer and a two-time peace writer in the Women PeaceMakers Program — writing and researching pieces on peacemakers from Sudan (Nuba Mountains) and the Democratic Republic of Congo (DRC).
Prior to joining the institute, Freeman worked with nongovernmental organizations in Ghana, Northern Ireland, Canada and in Ugandan refugee settlements on issues of women's rights and peacebuilding, sexual and gender-based violence, supporting people living with HIV/AIDS, and psychosocial programs for war-affected youth. She also conducted research on gendered security in forced migration, interviewing refugees from DRC, Rwanda and Burundi.
Freeman holds a BA in political science from the University of Victoria, and an MA (summa cum laude) in peace and conflict studies from the University of Ulster in Northern Ireland, where she studied on a Rotary International Ambassadorial Scholarship. She is fluent in German. Her writings have appeared in the Journal of Peacebuilding & Development, New Routes: A Journal of Peace Research and Action, Peace Policy (published by the University of Notre Dame), and the Christian Science Monitor.
Contact Information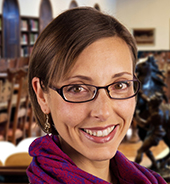 Email | jenfreeman@sandiego.edu
Phone | (619) 260-7569
Office | KIPJ 117