Contact:
School of Peace Studies

Email: peacestudies@sandiego.edu
Phone: (619) 260-7919
Fax: (619) 849-8109

Location: KIPJ Room 113
Joan B. Kroc School of Peace Studies
5998 Alcala Park
San Diego, CA 92110
>
Biography
Ami Carpenter
Associate Professor
Ph.D. Conflict Analysis and Resolution, George Mason University
M.A. Communication Studies, New Mexico State University
B.A. (Honors) Psychology, New Mexico State University
Ami Carpenter is an Associate Professor at the Joan B. Kroc School of Peace Studies at University of San Diego. She holds a PhD from George Mason University and has taught courses on international, community and organizational conflict prevention and resolution at George Mason University (Arlington, Virginia), National Taurida Vernatsky University (Simferopol, Ukraine), and California State University (Dominguez Hills). Dr. Carpenter worked on numerous initiatives as a mediator, facilitator, trainer, and conflict resolution consultant. She currently advises Interpeace, the United States Institute of Peace CVE and ARC programs, the San Diego Commission on Gang Prevention and Intervention and the San Diego County Advisory Council on Human and Child Sex Trafficking. Her previous publications cover resilience in fragile states and violent conflict in Mexico and Central America. Her research focuses on community resilience to violence, and the criminal dimensions of political conflicts. Currently, she is researching vulnerability and resilience to conflict in Iraqi and Guatemalan communities, and the connection between transnational gangs and criminal networks in Central America.
Areas of Interest:
• Conflict Resolution
• Resilience to Violent Conflict
• Sectarian Conflict and Extremism
• Identity Conflict (including gang conflict)
• Conflict Analysis
• Human Trafficking
Representative Publications:
• Carpenter Ami. Community Resilience to Sectarian Conflict in Baghdad. (Springer).
• Carpenter, Ami. "Gangs and Drug Trafficking: Challenges for Conflict Resolution in Mexico and Guatemala. In Crime and Violence in Latin America: Myths and Realities. (Lexington Books, 2015).
• Carpenter, Ami. "In Hand, Out of Hand: Weapons Use and Culture in Large Latino Gangs. In M. Palansinski (Ed) Psychological Perspectives on Youth Gang Behavior, Violence and Weapons Use. IGI Global (2015).
• Carpenter, Ami. Understanding Transnational Criminal Networks: A Contribution to Community Resilience. Journal of Gang Research 22,3 (2014).
• Carpenter, Ami (2013). "Changing Lenses: Conflict Analysis and Mexico's War." Journal of Latin American Politics and Society 55,3 (2013).
• Carpenter, Ami. "Civilian Protection in Mexico & Guatemala: Humanitarian Engagement with Druglords & Gangs." Homeland Security Review, 6,2 (2012).
• Carpenter, Ami. "Havens in a Firestorm: Perspectives from Baghdad on Resilience to Sectarian Violence." Civil Wars Journal 14,2 (2012).
Current Courses:
• PJS 550 Conflict Analysis and Resolution
• PJS 556 International Negotiation
Contact Information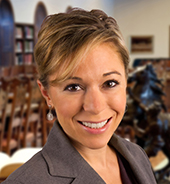 Email | acarpenter@sandiego.edu
Phone | (619) 260-7830
Office | KIPJ 272
Office Hours

Tuesday: 12-3pm
Thursday: 10:30am-12:30pm
Syllabi