About the School
Necla Tschirgi
BA Political Science, American University of Beirut
MA Political Science, American University of Beirut
Ph.D. Political Economy, University of Toronto
In September 2010, Necla Tschirgi joined the Joan B. Kroc School of Peace Studies at the University of San Diego as Professor of Practice, Human Security and Peacebuilding.
A native of Turkey, Dr. Tschirgi received her BA and MA in political science at the American University of Beirut and her Ph.D. in political economy at the University of Toronto. Her extensive international career has spanned research, policy analysis, teaching, research management and grant making. In the last fifteen years, she has increasingly specialized in conflict prevention and peacebuilding—focusing on the nexus between security and development.
From January 2007 to March 2009, Dr. Tschirgi served as an in-house consultant/Senior Policy Advisor with the Peacebuilding Support Office at the United Nations Secretariat in New York. Previously she was the Vice President of the International Peace Academy (IPA) from 2001-2005 where she also led IPA's Security-Development Nexus research program. Prior to moving to New York to join IPA, she helped establish and led the Peacebuilding and Reconstruction Program at the International Development Research Centre (IDRC) in Ottawa from 1997 to 2001.
Recent publications include:
Security and Development: Searching for Critical Connections, edited with Michael S. Lund and Francesco Mancini (Lynne Rienner Publications, 2010)
The Security-Politics-Development Nexus: The Lessons of State-building in Sub-Saharan Africa (EU Working Paper, European University Institute, 2010)
The UN's Peacebuilding Commission: Escaping Path Dependency (Working Paper prepared for the Centre for International Policy Studies and NUPI, 2010)
Strategic Policy Frameworks and Peacebuilding in PBC and non-PBC countries: Emerging Lessons, with Erin McCandless, Journal of Peacebuilding and Development, Vol 5:2 (2010)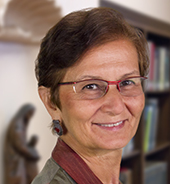 Necla Tschirgi
Professor of Practice, Human Security and Peacebuilding

Phone | (619) 260-7912
Office | KIPJ 245
Office Hours

Tuesday 10:00am-12:00pm
Wednesday 10:00am-12:00pm
Thursday 1:00pm-2:00pm
*Students may also make an appointment