The USD Parent Corps, dedicated to compassionate service, was created by our Parents Association Board. USD parents and families are passionate about making a difference in the community and enhancing the lives of students. USD parents and families are encouraged to join the USD Parent Corps in local community service projects such as a food drive and minor home improvements for those in need. The USD Parent Corps holds two types of projects: Care Projects and Service Projects.
If you are interested in joining our USD Parent Corps, contact the Office of Parent Relations at parents@sandiego.edu or call (619) 260-4808.
Care Project
In the fall, the USD Parent Corps conducted its third annual USD Parent Corps Care project, a backpack drive benefiting low income students at Montgomery Middle School in Linda Vista. Many of these students bring their books and supplies to school in plastic grocery bags. With help from the USD community, we collected more than 200 backpacks for the students. Thank you to everyone who helped us with this project!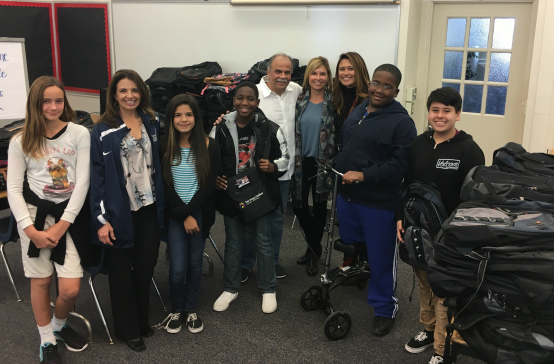 Pictured: Montgomery Middle School students with Director of Parent Relations, Renda Quinn (second from left) and Parents Association Board members Sonny Thadani and Terri Gainor (fifth and sixth from left).
Service Project
The University of San Diego's Parent Corps, Mulvaney Center and student organizations will partner with the Linda Vista Elementary school community for a one-day service project on May 6th from 8:00 a.m. to 2:00 p.m.
The following needs will be addressed: Front of school re-landscaping, trees placed in large planters for shade on the playground, materials/furniture assembled and placed in the STEAM "maker spaces," hallway book shelving project, and parent room paint and refurbishing
This project needs 40 people from the USD community to carry out the various tasks. To sign up, please email parents@sandiego.edu or call (619) 260-4808 during normal business hours.
Your help is greatly appreciated!
Photos from the 2015 Service Project.