Student Engagement
High Impact Practices
Academic programs embed high impact practices that are known to enhance student engagement and increase student learning. See the many USD programs committed to high impact practices:
---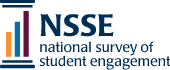 Decades of higher education research show that student engagement is a central component of student learning. NSSE, the National Survey of Student Engagement, was designed to measure the extent to which undergraduate students actively participate in their educational experience.
The ten Engagement Indicators address four specific themes of engagement:
Academic Challenge — How much does the student prepare in advance for class, read assigned books, write papers and reports, work harder than he or she expected
Learning with Peers — How much does the student contribute to class discussions, work with classmates outside of class, participate in community-based projects, make presentations in class?
Experiences with Faculty — How much time does the student spend with faculty talking about grades and assignments, discussing ideas outside of class, working together on research projects?
Campus Environment — How much does the campus facilitate good relationships, provide opportunities for social interaction and for academic success?
NSSE also assesses a university's High-Impact Practices, special undergraduate opportunities, such as service-learning, study abroad, research with faculty and internships that have positive effects on student learning.
USD has administered the NSSE survey five times and a sixth administration is underway. Results are available for Fall 2015. See more information about the NSSE.
Student Outcomes
5998 Alcalá Park
San Diego, CA 92110
Phone: (619) 260-4600