Kathleen Bamburg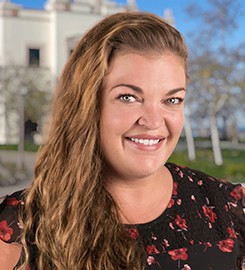 Phone:
(619) 260-4600 ext. 2532
Office:
Founders Hall 148D
Research Development Officer
Katie Bamburg joined the University of San Diego in March 2013 and currently serves as Research Development Officer in the Office of Sponsored Programs. She collaborates with faculty, administrators, and staff across campus to stimulate interest in externally funded research. She submits competitive proposals to external sponsors and negotiates incoming awards with federal, state, local, and non-profit funders. Additionally, she supports interdisciplinary teams in seeking funding for institutional initiatives from external sponsors.
Ms. Bamburg is an active member of the National Council of University Research Administrators (NCURA), and brings to USD over 8 years of experience working with external grants at the University of California, Santa Barbara's Institute for Social, Behavioral, and Economic Research.
Office of Sponsored Programs
5998 Alcalá Park
San Diego, CA 92110
Phone: (619) 260-6825
Fax: (619) 260-2225
research@sandiego.edu