SOLES Graduate Writing Center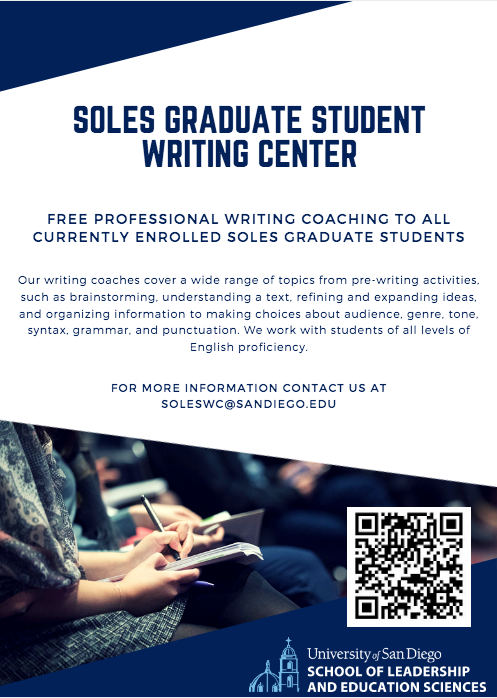 The SOLES Graduate Writing Center is now available to students! If you'd like an extra set of eyes on your final papers for this semester, we can pair you with a writing coach to provide feedback and guidance!
Currently enrolled SOLES graduate students are invited to submit written course assignments for feedback from a professional writing coach.
Our writing coaches cover a wide range of topics from pre-writing activities, such as brainstorming, understanding a text, refining and expanding ideas, and organizing information to making choices about audience, genre, tone, syntax, grammar, and punctuation. We work with students of all levels of English proficiency.
Process
The writing coach will spend 1 to 2 hours reviewing your work and will provide substantive feedback via tracked changes and comments. The coach will then coordinate a web-based coaching session to review the edits and suggested revisions. The coach will devote 50 minutes of the hour to working with you on your assignment and will use the remaining ten minutes to write an email summary of the session with follow up next steps.
Individual writing coaching appointments are a maximum of 1-hour and students may reserve one appointment per week for a maximum of three appointments per semester. Appointments are available on a week-by-week basis and are first come, first served. Web-based coaching sessions will be held via Zoom.
Please note that it may take 48-72 hours for a writing coach to reply with feedback and to set a coaching appointment.
Contact: