Sign Up Deadline to Present at SOLES 1st Annual Diversity, Inclusion, & Social Justice Excellence Showcase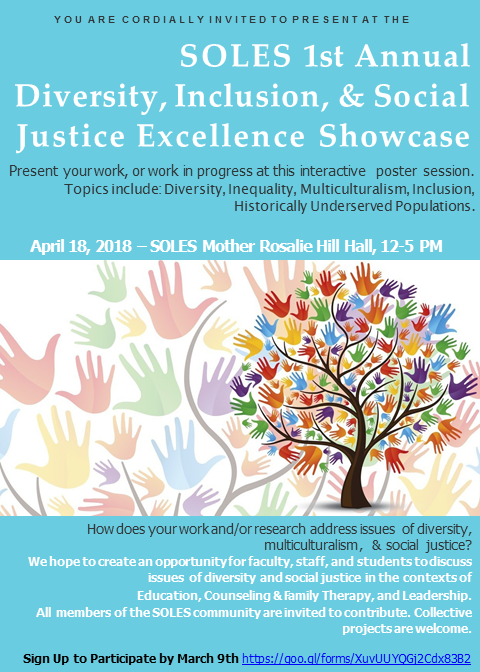 begin quote

You are cordially invited to present at the SOLES 1st Annual Diversity, Inclusion, & Social Justice Excellence Showcase
Present your work, or work in progress at this interactive poster session. Topics include: Diversity, Inequality, Multiculturalism, Inclusion, Historically Underserved Populations.
April 18, 2018 - SOLES Mother Rosalie Hill Hall, 12 - 5 PM
How does your work and/or research address issues of diversity, multiculturalism, & social justice?
We hope to create an opportunity for faculty, staff, and students to discuss issues of diversity and social justice in the contexts of Education, Counseling & Family Therapy, and Leadership. All members of the SOLES community are invited to contribute. Collective projects are welcome.
Sign Up to Participate by March 9th https://goo.gl/forms/XuvUUYQGj2Cdx83B2
Download Attachment (pdf)