Union of Pan Asian Communities Leadership Award for Dr. Laura Deitrick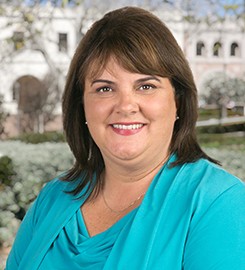 The Union of Pan Asian Communities (UPAC), an organization dedicated to uniting people across diverse cultures, languages & generations through courage, compassion & innovation, will be recognizing Dr. Laura Deitrick at a
May 17
Annual Leadership Awards Dinner.
Laura Deitrick, Ph.D. serves as the Associate Director of The Nonprofit Institute at the University of San Diego. She has been a nonprofit executive director, board member, management consultant, and researcher on major nonprofit trends. Her research has led to important reports on nonprofit ethics, nonprofits and public education, nonprofit human resource practices, executive transition, the economics of San Diego's nonprofit sector, nonprofit public confidence, and regional grantmaking.
In her role, Laura oversees graduate programs as well as the work of the Caster Center for Nonprofit and Philanthropic Research. Under her direction, the Caster Center's work is focused on research and evaluation and understanding the economic landscape of the nonprofit and philanthropic sector in relationship to the broader economy.
Dr. Deitrick is a faculty member in USD's Nonprofit Leadership and Management master's program where she teaches nonprofit research methods, program design, and evaluation. She is the co-author of Cases in Nonprofit Management: A Hands on Approach to Problem Solving, recently released by Sage publications.
Congratulations to Dr. Deitrick!