SOLES Goes Global!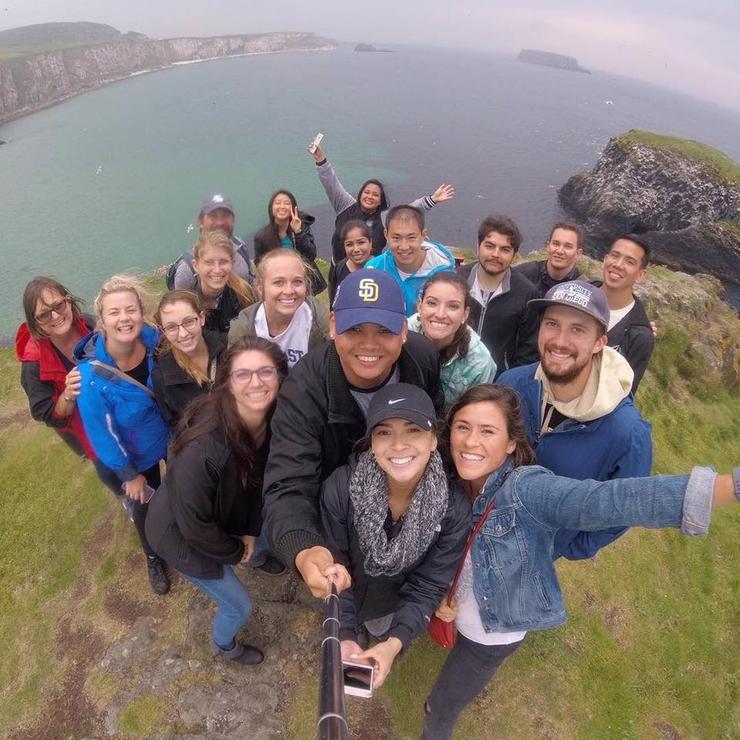 At SOLES we take pride in being global citizens and this summer we held true to our word. Take a look at some of the highlights from a few of our faculty, students, and alumni that spent time learning cultures, researching or making a difference abroad!
To learn more about upcoming international opportunities be sure to visit the Global Center.
Students
Northern Ireland
From June 16 - June 22, 2017, students who were enrolled in LEAD 579i & EDUC 511i, Ed Reform: Educational Systems in Post-Conflict Environments traveled to Ireland. During their time abroad these students spent time learning the culture and education system. This course investigates this largely segregated society from both a historical perspective as well as from within the context of this post-conflict era.
Click here to see more photos.
Thailand
Paz Valdivia and Robert Brundage both students in the Teaching English to Speakers of Other Languages (TESOL) program were selected to participate in an all-expense paid cultural immersion program this summer at the 6th Language and culture Camp at Ubon Ratchathani University(UBU), Thailand.
Click here to watch a video about their experience!
Japan
From July 1 - July 9, 2017, students enrolled in Japan EDUC 510i Cognition and Learning traveled to Japan. This international experience encompassed a cross-cultural approach for developing a deep understanding of human cognition and learning with an emphasis on implications for educators and educational researchers. These students were able to learn first-hand about Japanese teaching methods/philosophy and had the opportunity to interact with Japanese K-12 teachers, students and university students at Waseda University.
Click here to see more photos.
East Africa
Dan Morgan is a Benedictine monk of Collegeville, MN and a student in the MA Higher Education Administration. Dan is currently working on an independent study course in East Africa, in Kenya and Tanzania. His goal is to learn more about how volunteers and the host communities make meaning of their service experience.
Click here to read the full story.
Ecuador
From June 25 - July 6, 2017, students enrolled in Ecuador COUN 515I Multicultural Counseling traveled to Ecuador. This international course examined multicultural counseling, with an emphasis on being culturally responsive for work in clinical mental health and school counseling settings. These students were introduced to academic and experiential activities designed to increase awareness of their own cultural values, biases and personal assumptions in understanding and addressing the needs of underserved and diverse individuals, families, and communities.
Click here to see more photos.
Faculty & Alumni
India
Maya Kalyanpur, PhD, Professor and Chair of Department of Learning and Teaching traveled to India for the first phase of her Fulbright Flex Research Grant. She spent the summer at the Tata Institute for Social Sciences, a premier research institution, in Mumbai, India, to explore why there has been such an exponential increase in the number of students being labeled as learning disabled in India over the last decade. She also visited an English-medium school serving students from bastis or urban slums, a regional-language school in a rural area, a remedial/tutoring school, and an English-medium school serving middle-income and affluent students. Operating in four languages, she observed classrooms, interviewed teachers and parents, and met with personnel from non-governmental agencies serving basti residents. Dr. Kalyanpur stated that she," found that socio-economic status plays a role in who gets labeled and receives appropriate services and that instruction which emphasizes memorization within the multilingual Indian context often contributes to students' academic difficulties."
Africa
Corinne Brion Ph.D. '17 and Professor Paula A. Cordeiro traveled to several locations in Africa to collect data for ethnographic case studies of low-fee private schools and to conduct leadership trainings. The best way to learn about their research and travels is to read their Postcards!
Postcards from Accra Ghana, West Africa
Greetings from Kigali Rwanda!

Korea
Over the summer Suzanne Stolz, Assistant Professor of Special Education, was invited by the Seoul Metropolitan Government and the Korea Association of Persons with Physical Disabilities to participate in a "barrier-free" tour and seminar to provide feedback and analysis of a new initiative to promote tourism for disabled persons she joined delegates from Japan, Thailand, and Taiwan. While she was in Seoul, she was able to meet up with one our Online MEd program students Jae Rang Oh!