SOLES Alumni Spotlight: Jenny Li '16 MA, Clinical Mental Health Counseling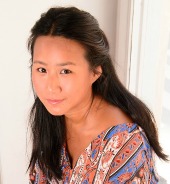 begin quote

Action without vision is only passing time, vision without action is merely day dreaming, but vision with action can change the world. -Nelson Mandela
How did you hear about SOLES, and why did you choose to enroll?
I was researching where I wanted to go to school, looking specifically into counseling programs. USD was one of the schools that offered a focused clinical mental health program. I was not only stunned by the beauty and ambiance of the campus, but also very impressed with the one-on-one contact the faculty offered me. Additionally, the values and high standards that SOLES had were very appealing to me, which made me realize that USD would be the perfect fit for me.

What is your background? For example, where are you from, where else have you earned a degree, and where have you worked?
I was originally born and raised in Sweden. I earned a BSc in Political Science many years ago in Stockholm and continued my career within international product development, procurement and sourcing before having my own business for a few years. I moved from Sweden in 2013 and moved to San Diego from Colombia.

Tell us about your journey post graduation.
It has not been that long since I graduated; however, I have slowly been finishing some other training while enjoying summer and letting the experience from the past 3 years settle in. I am excited to continue this journey post-graduation, and looking forward to being able to share related experiences to those whom it could benefit.

How has your SOLES education impacted your career and/or career goals?
The diversity and one-on-one dedication provided at SOLES is invaluable. While we are responsible for the path we choose to take, the support and knowledge offered at SOLES, within my program, and by my professors and peers truly helped me on my way.

Which class has impacted you the most? Why?
Each class has challenged and enlightened me in different ways. One of the classes specifically is the Group Counseling class with Dr. Molenkamp – it provides not only basic foundations of group counseling skills and dynamics, but offers an opportunity for deep self-exploration, and connection with peers.

If you could offer a current USD student advice, what would it be?
Being a part of USD and SOLES will enrich your every experience – academically, professionally and personally. Ultimately, it is what you make of your experience as well, so as SOLES can provide you with tools and guidance, I recommend you immerse yourself as much as possible in any way you can, to explore what your next step will be. One of my favorite quotes of all times is by Nelson Mandela who said, "Action without vision is only passing time, vision without action is merely day dreaming, but vision with action can change the world." This quote not only captures how I feel about life, but also how SOLES encourages their students to have the vision and to take action.

Would you like to be a future SOLES Alumni Spotlight?