Alumni Spotlight: John Franey '13 PhD, Leadership Studies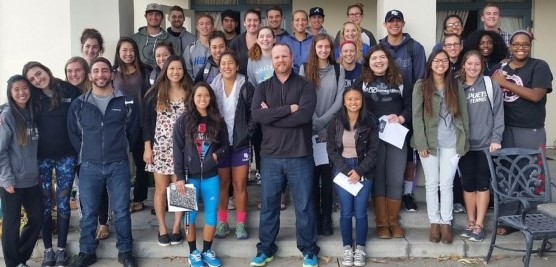 begin quote

It is so rewarding to see programs, such as our new League of Amped Leaders (a youth leadership curriculum and program), make a difference in schools and communities!
What brought you to the PhD program?
Now my parents would probably tell you it was from their pressure for me to do more with my career and life! But I can't admit to that (at least publicly to them), so in reality I joined the program because I wanted to make a bigger difference in the lives of others. I thought that a PhD in Leadership would enable me a bigger platform than my K-12 teaching and coaching was doing at that point. The program did not disappoint as I am now able to work with thousands of kids and adults in a single year!
Tell us about your journey post-graduation. What kept you motivated to stay in your profession?
After graduation, I took on a position as a lead researcher in SOLES' CEPAL and MTLC centers. It was an amazing opportunity to put into action all of the learning from the PhD program. After a couple of years in the research world, I realized that while I enjoyed research, I was more passionate about working with people and organizations through coaching, consulting, and workshops. So I left USD to open my own leadership development business, Developing Difference Makers, LLC. It has been an amazing (and tough) two years building this business, but the best part about it is the ability for me to use my leadership learning to impact others. It is so rewarding to see programs, such as our new
League of Amped Leaders
(a youth leadership curriculum and program), make a difference in schools and communities!

How have you applied leadership practices into your professional life?
Leadership is everything for me at this point. The company I founded is built entirely on leadership development. Every day in my work, I am living and breathing leadership theory and application. Developing new programs to help others build their leadership skills, capacities, and knowledge is of utmost importance in my life and career. Sometimes, it is very difficult to turn off the "leadership lens" when I am not working. I tend to now see everything from this lens and notice things about situations that used to be hidden from me. While this helps when you are a leadership consultant, it doesn't always make friends and family happy to hear you drop your leadership two cents on them!

What is your fondest memory of USD?
While there are a ton of memories that pop out with this question, such as my team winning the Green Cup (Dr. Green's Adult Development Class), attending workshops from 'famous' academics, building lasting friendships with other students, and the great dialogue in so many courses, nothing stands out more than graduation day. What made it so special was getting to enjoy it with my two young daughters (both born while I was in the program) and wife who supported me throughout the journey (and all the long hours spent researching and writing in the SOLES building)!

What is your favorite place on campus, why?
By far, my favorite place on campus is the parking lot below the SOLES building! It may sounds strange, but never was I happier on campus then when a parking spot in that underground lot would open up and I was in the perfect position to snag it!
Who was your favorite USD professor or class?
The SOLES professors are an integral factor for my enjoyment of the PhD program. Their ability to connect with students as mentors, coaches, and friends is what sets them apart! While so many professors have had a positive impact on my life and career, by far
Dr. Lea Hubbard
ranks at the top! She is an amazing teacher, researcher, role model, dissertation chair and friend! Her support, guidance, and instruction was (and still is) so incredibly impactful in my life. My dissertation might still be in the editing process if it wasn't for her guidance!

How have you remained involved with USD since graduation?
It has been great to stay involved by participating on panel discussions for new SOLES students, attending keynote speaker sessions, talking through the dissertation process with doctoral students, and serving on Master's thesis committees.

If you could offer a current USD student advice, what would it be?
Don't be afraid to change directions within the leadership programs. While many students come in totally on track with exactly what they want to study, research, and do, know that not everybody comes in that way. I was one of those students, and I can still remember when Dr. Frank Kemerer, in my first advising session with him, asked me the old "What do you want to be when you grow up?" Little did either one of us know that he would continue to ask me similar questions throughout the program as I moved from one idea to the next! It can be an amazing journey to find your true passion and calling, so don't be afraid to 'get lost' in all the new
learning and find a whole new path!
Would you like to be a future SOLES Alumni Spotlight?