Postcards from Accra Ghana, West Africa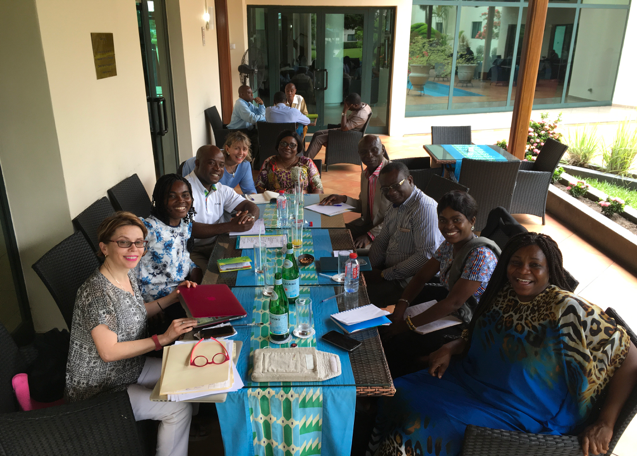 June 27, 2017
Postcards from Accra Ghana, West Africa
5.6037° N, 0.1870° W
Greetings from Accra Ghana!
Doc alum Corinne Brion Ph.D. '17 and I are in Ghana finalizing the collection of data for four ethnographic case studies of low-fee private schools. Data collection has included individual interviews and focus groups with school leaders, teachers and other staff members, parents and local community members. We also used a classroom observation instrument that examines student-teacher interactions. Additionally, the study involves pre-and post student assessment to measure reading progress in grades 2 and 3 using the Early Grade Reading Assessment (EGRA) tool.
We work with two organizations: Edify, a San Diego based NGO with offices in nine countries (www.edify.org/) that works only in education; and, Opportunity International, an NGO working to end global poverty by creating and sustaining jobs (http://www.opportunity.org)
Here's a colorful pre-school classroom at Immaculate Conception School. Florence and her husband Tony Minnah are the founders and Florence is the principal. She's enrolled in USD's new certificate program through the School of Professional and Continuing Education. Florence will receive a certificate in Independent School Leadership comprised of 12 credits. It includes three leadership-training modules, an annual institute, joining a professional development group on the WhatsApp platform and a practicum.
Here's a photo from the two-day training we conducted: Leading for Learning. We ask participants to analyze and critique a video of a sixth grade math lesson and then we role-play a post conference with the teacher. All three leadership-training modules are evidence-based! Over the last four years lots of students and faculty in SOLES have been involved in creating the modules. In the next photo, one of the teams is watching a video of a sixth grade classroom. They critique the lesson and then role-play a post-observation conference.
The next photo shows the planning group for the October Edify Leadership Institute (ELI). The group includes Dorcas and Florentine who are Education Specialists with Edify and several school proprietors.
And, of course I have to send a photo of a student. Don't you just love it when children are reading!
Finally, here's Corinne working in the lobby at the hotel. When we go to Ghana, since there is limited time, we work seven days a week!
But, on Saturday evening we found time for some relaxation and went to the National Theatre in Accra. Ebo Whyte is a renowned Ghanaian playwright and author. The play, Damaged Goods, was clever and funny!
In the foyer were two sets of very large drums—one is male and one is female. They looked the same to me, but I was told their sounds are different!
If anyone reading this has an interest in talking about possibly working with us, please email me at cordeiro@sandiego.edu
Wishing everyone a great summer!
Professor Paula A. Cordeiro
Dr. Corinne Brion