Trustee Darlene Marcos Shiley Visits USD Students, Talks Philanthropy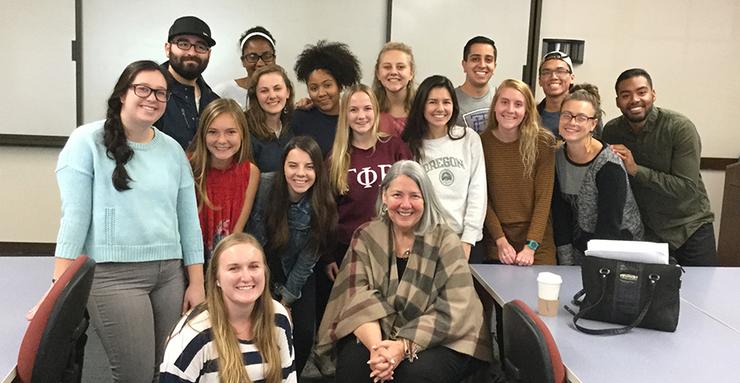 Darlene Marcos Shiley, a University of San Diego Board of Trustee member, visited the campus last month to specifically speak with undergraduate students in a School of Leadership and Education Sciences nonprofit leadership and management class and answer their questions about her philanthropic efforts.
A noted local and national philanthropist, the former USD Board of Trustees Chairwoman and along with her late husband Donald P. Shiley, has been a longtime USD supporter. The Shileys' support has been behind such programs and projects as the Shiley-Marcos School of Engineering, Shiley Theater, Shiley Center for Science and Technology and The Old Globe and USD Shiley Graduate Theatre Program.
Shiley's visit to this class has been an annual event, according to Nonprofit Leadership and Management Program Director and Professor Teresa Van Horn.
"She's done it for several years and always has a good time. We send her student questions about her philanthropic work in advance and she spends the class answering them," Van Horn said.
Van Horn's students, following Shiley's visit, reflected on the experience. Van Horn provided a few of the students' responses:
An Appreciation for Giving
"I absolutely loved having Mrs. Shiley come to our classroom and talk about philanthropy. She is such a kind-hearted woman who is witty and comical. She brought joy to the classroom. It was very beneficial to my learning to have her speak to the class. I was able to learn more about philanthropy and how it is much more work than people assume it is. I was also able to learn about ethics. Mrs. Shiley portrayed an amazing example of why it is so important to be ethical and grounded. Mr. and Mrs. Shiley are amazing people who give back to the world out of the kindness of their hearts and because they want to see everyone succeed. We have her to thank for putting in hard work to allocate their money to different organizations such as the University of San Diego. I am grateful that the Shileys have chosen to donate to the betterment of our university because I now have amazing resources to help me further my education."
Role Model
"The time Mrs. Shiley spent with our class was something that as a student, but more importantly as an advocate of philanthropic efforts, I will never forget. Explaining how humbled I am to have met Mrs. Shiley is not doable — in fact, there are truly no words to express my appreciation. I had never before heard of or seen such successful, yet humble, person and was captivated by Mrs. Shiley. In short, although I am only 21, I can confidently say that Mrs. Shiley is one of my biggest role models. Her comforting, friendly, and down-to-earth personality made it very easy for my classmates and I to relate to her ... Thank Mrs. Shiley for visiting us. Thank Mrs. Shiley for being a Changemaker. Thank Mrs. Shiley for being an inspiration to all of us."
Lessons Learned
"Mrs. Shiley was such a joy and a breath of fresh air. I thought that as a wealthy woman she was going to act a certain way, but talking with Mrs. Shiley felt genuine and sweet. A teaching that I personally connected with was how she didn't let being a woman in a male-dominant industry stop her or intimidate her. I really enjoyed Mrs. Shiley's lessons immensely and would absolutely love to have her back again. Our small class made it feel so intimate and less like a lecture, but more of a family gathering."
Honest, Motivating Talk
"What I liked most about Mrs. Shiley, beside her giggle, radiating self-love, quick humor and sharp mind, was her brutal honesty — 'When you graduate, someone will tell you that the world is waiting for you with open arms …' she tells us, 'that is fiction,' and the world is not waiting for us; it is out there, it is 'really ugly' so we'd better 'enjoy these few brief moments.' This is a bigger reminder to always enjoy our blessings, the lives we get to live, the education we are given, and the family we have that supports us. ... I am happy that a woman like Mrs. Shiley says that happiness is found in helping others and finding the right people to share life with, because that is currently what I'm striving for and it always feels good to be reassured on this path of life."
— Ryan T. Blystone