Alumni Spotlight: Nick Boyd '14 MA, Counseling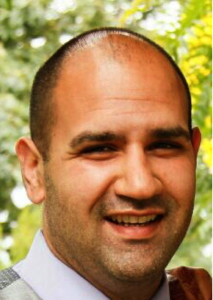 begin quote

My advice would be to get involved in as much as you can.
What brought me to the MA program?
Well, I had applied to Portland State University, which is where I did my undergrad for two years in a row and was either wait listed or denied. When I decided to return to school, it was the peak of the recession and many others were also doing the same. It was not uncommon to have 120 applications for 10 or 11 openings at that time. So, during my third attempt I cast a wider net and was accepted in the Chicago School of Professional Psychology and the University of San Diego. I visited Chicago in February and quickly decided that feeling naked in 10 layers of clothing was not for me, so I chose San Diego site unseen. USD is a reputable school and located in a beautiful area of the country. Needless to say, it was probably the best decision I have ever made, not only returning to school but to attend USD.
Tell us about your journey post graduation.
When I had to begin thinking about jobs post school, I knew that as much as my heart was in non-profit, I couldn't afford to remain in San Diego with what majority of the pre-licensed clinical salaries were being offered at that time. So I made a decision to take a slower path and take a non-clinical full-time job while pursuing hours on the side. Having been actively involved in research throughout my time in the program and being an active member of the Army Reserves, I landed a job in research with the Department of Navy. I was later promoted to a psychological health consultant role before finally transitioning to a resilience trainer at MCAS Miramar which is where I am now. Although my path was different from many of my peers, I feel extremely fortunate of the experiences I have been afforded in my career to this point. I was able to be part of high level working groups and influence psychological health policy across the entire DoD, ultimately affecting hundreds of thousands of service members. It truly is a good feeling to know the work you do has such a positive impact to so many people.
How have you applied leadership practices into your professional life?
As kinda mentioned previously, I went from graduate school to a fairly high visibility position all with minimal management experience. Needless to say, it was nerve-racking at times overseeing significant projects. However, I was surrounded by some of the most amazing leadership and professionals who explored with me what a good leader is. I was provided room to make mistakes in a constructive and positive environment while still being given opportunity to learn and grow not only as a manager, but a good leader too. So when it comes to application, I have learned to give others what was given to me-an environment that is supportive and fosters curiosity, allows others to express themselves in a constructive way, all while being given room to learn and grow.
What is your fondest memory of USD?
I have so many fond memories of USD. I moved to San Diego from Portland, OR without ever visiting before. Needless to say, I didn't have much in terms of support when I moved here and knew nothing about USD or the area I decided to live in. However, the friendships I have made have been amazing. All of my cohort members went through so much together and they all became my family away from home. With that said, we spent many nights studying until early morning at the library or sharing in potlucks in the classroom. It really was a fun time even with all the stress of school.
What is your favorite place on campus, why?
My favorite place on campus is the Peace and Justice Center and the meditation garden. It is a true gem on campus and one which is absolutely beautiful-not only because of the view, but also because of what the institute stands for. I would meet so many people from all walks of life and from so many different countries just within the walls of that building.
Who was your favorite USD professor or class?
I developed a pretty good relationship with Dr. J because of the amount research we were involved with together. But, I must say, one of my favorite classes was Dr. Barret's Substance Abuse course. It was SO challenging but I learned so much from that class. Enough so that I was even able to take on teaching an intro substance abuse course at San Diego City College as an adjunct.
How have you remained involved with USD since graduation?
I truly had such a great experience at USD and believe that the Clinical Mental Health Program is one of the best. With that being said, I try to attend the alumni gatherings and remain in touch with faculty the best I can. I enjoy volunteering and believe in paying things forward and offer my time whenever there may be opportunities available to become involved either with the department or on campus.
If you could offer a current USD student advice, what would it be?
My advice would be to get involved in as much as you can. Take on the extra opportunities outside of traditional course work and create your experience. You can do the minimum and be just fine, but it's all the extra little things that will set you apart.

Would you like to be a future SOLES Alumni Spotlight?