Dr. Reyes Quezada Publishes Book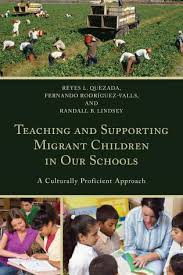 Teaching and Supporting Migrant Children in Our Schools: A Culturally Proficient Approach
written by Reyes L Quezada, Fernando Rodriguez-Valls, and Randall B. Lindsey
"The writing of this book with a focus on the education of children of migrant farmworkers was special," says Dr. Quezada, "as my father himself was a farmworker and I too along with my brothers and sisters worked in the agricultural fields of the Imperial Valley. Throughout the book I would reflect on the time I had a conversation with Cesar Chavez, then UFW President for about a half hour at the airport in Fresno on his way to a hearing in Washington DC and saw my father in him-a humble man but with conviction."
General approaches to multiculturalism run the risk of overlooking an increasingly diverse student population that deserves special consideration and attention: students from immigrant backgrounds whose families toil the fields in order to provide better educational opportunities for their children. This book's purpose is to guide educators to think deeply about their roles and responsibilities in the education of children of farmworker families in our nation's schools. Readers will view their classrooms, schools, districts, and the migrant programs they lead in a broad and inclusive manner through the lens of cultural proficiency.
The initial steps when embracing cultural proficiency entails thinking reflectively about one's own values and behaviors and the school's policies and practices toward children of farmworker families. Cultivating a willingness, openness and commitment to meeting the challenges and opportunities of this often-invisible aspect of diversity is an important first step for the development of effective educational practices for migrant students and their families. The cultural proficiency framework can inform staff development models for working effectively with migrant students and their families.