Postcards from Burkina Faso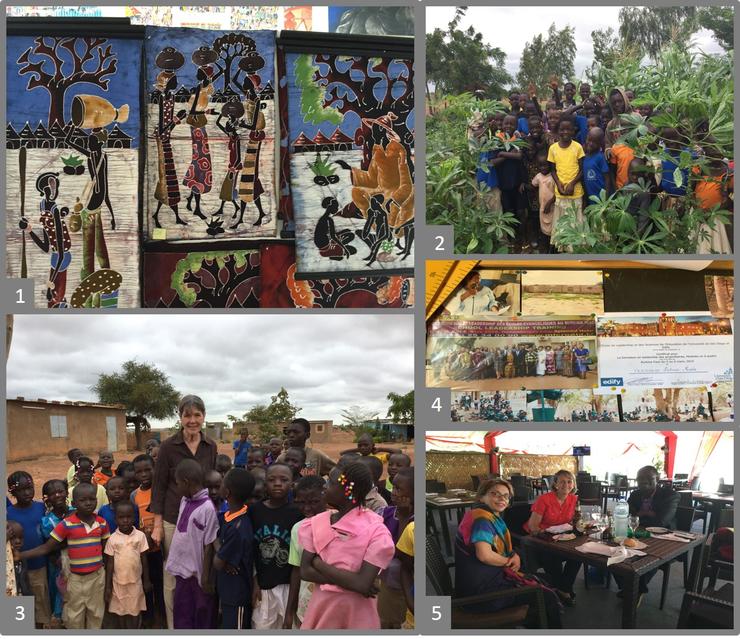 SOLES Doc student Corinne Brion and ELDA Professor Peg Basom just finished teaching a three-day school leadership training module in French speaking Burkina Faso. Burkina is a fascinating country. It is landlocked and is north of Ghana. I included five photos with these postcards so you can get a better feel for a country that you may never had heard of. Burkina was a French colony until it gained independence in 1960. The capital is Ouagadougou—or Ouaga (pronounced Waga) for short.
The first photo is of some of the lovely cloth wall hangings that the Burkinabe (That's the name they call themselves) paint. Typically they depict scenes of village life.
The school leadership training modules include one on student health, nutrition and wellness. So, take a look at the fabulous garden that this school added since the last training about 9 months ago. We are so proud of the proprietor of this school. He had the students work in the garden and they sold the vegetables they grow. The school is using the money from the vegetables they sell for tuition scholarships. These schools serve some of the poorest children on our planet so it is so exciting to see them paying more and more attention to creating the right conditions for students to learn. Children cannot learn if they are hungry, or the classroom building is noisy, or filled with dust. So, the training modules cover topics that help to create the 'conditions for learning.'
The third photo shows Dr. Peg Basom surrounded by children who rarely see foreign guests. Peg speaks French so she was able to talk with them. We visited several schools, but like in the US, it's vacation time. The school proprietor invited the children to come by and meet us since they live in the surrounding neighborhood. All of these schools are what the literature calls 'low-fee private schools' (LFPSs). Usually, the government does not have the finances to open all the schools that the country needs, so there are thousands of LFPSs in developing nations around the world.
The fourth photo is from the bulletin board in one of the schools. You can see a photo, of a group of school leaders, taken at a training session last year. We usually have from 20-30 participants in one training session. Doc student Corinne Brion led that training and she is in the middle in the front row. The "Certificate of Completion" on the right is what we give each school leader who completes the training. It's great to see SOLES's beautiful Hill Hall on the wall!
Professor Peg Basom took the final photo. You can see Corinne Brion (PhD. Candidate), Caleb who works for the local micro-lending organization and myself. At the end of a long day, a local beer –Barkina--is great!