SOLES' Alum Leads Fundraiser to Break Guinness World Record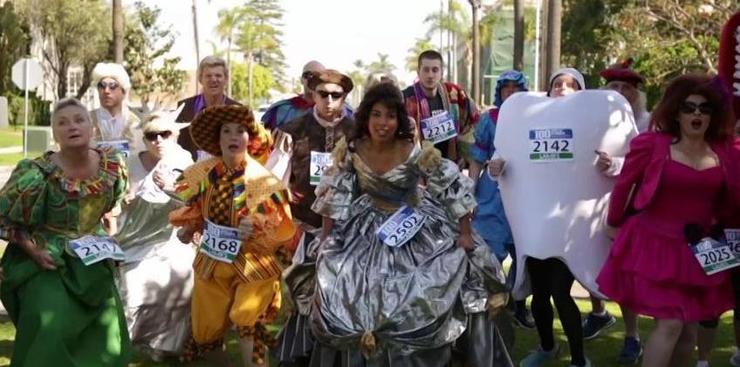 Like many development professionals, Colleen Kollar Smith '13 had heard feedback from her donors that they would prefer a creative fundraising event rather than another dinner or gala to attend. While working toward her master's in nonprofit leadership and management at SOLES, Kollar Smith, her classmates and faculty often discussed creative opportunities to fundraise.
Using the expertise gained at SOLES, particularly in her Organizational Theory and Resource Development classes, Kollar Smith is leading the Lamb's Players Theater in Coronado in an effort to beat the Guinness World Record for longest consecutive theatrical performance as its newest fundraising event this weekend. From 6:00pm, Thursday, May 8 through 10:00pm, Monday, May 12, more than 100 professional actors will volunteer their time to perform readings and songs from more than 50 different plays and musicals, non-stop for 100 hours.
"We were looking for a way to give our donors something different and a way to celebrate what we do best and use it as a way to show people who we are." Kollar Smith said.
In order to break the record, Lamb's Players Theatre needs a minimum of 20 audience members for the entire 100 hours. The organization is still looking for official audience members, who are committed to four-hour time slots. Official audience members earn free admission, a complimentary beverage and will be listed in the official record. To sign up, email 100HoursOfficialAudience@lambsplayers.org.
The fundraising goal is $100,000 or $1,000 for each hour of performance; they've already raised over $90,000. "It feels good to have had such a great response from the community," Kollar Smith said. "It will be entertaining, and it certainly will be fun. It's a once-in-a-lifetime opportunity."
If you're interested in participating, the organization is looking to fill the following time slots:
Friday, May 9:
5:00am - 9:00am
8:45am - 12:45pm
Saturday, May 10:
3:30am - 7:30am
7:15 am - 11:15am
11:00am - 3:00pm
10:15pm - 2:15am
Sunday, May 11:
2:00 - 6:00am
5:45 - 9:45am

Additional audience members are also welcome. Tickets for this special event can be obtained by email or at the door for a donation. For more information or a schedule of the event, visit the Lamb's Players Theatre website.