MTLC Presents at UNESCO's Mobile Learning Week 2014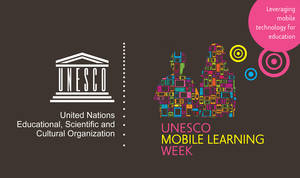 A team from the Mobile Technology Learning Center attended UNESCO's 2014 Mobile Learning Week in Paris in February 2014. The theme of this year's conference was: Leveraging mobile technology for education: Empowering teachers with technology.
Director of MTLC, Scott Himelstein, and Director of Technology and Innovation, Shawn Gross, hosted a panel entitled: Mobile learning perspectives from the United States: Three superintendents share their experiences and insights. MTLC directors also attended a one-day Senior Policy Maker's Forum that explored how mobile technologies are transforming teaching practice and how they should be leveraged to do.
Our research and professional learning teams attended the Research Track that focused on understanding the needs of different stakeholder groups in regards to research findings. Participants dicussed how research can inform and support the work of teachers, and they explored the capacities of existing research to improve programs and policies. An UNESCO publication will be released in the summer of 2014, highlighting the dialogue that occurred in the Research Track and offering recommendations for improving mobile learning research and its relationship to policy.