The Leadership Institute Hires New Director: Meenakshi Chakraverti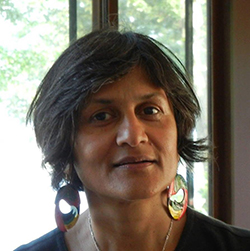 Meenakshi Chakraverti, PhD, joined SOLES as the director of the Leadership Institute on January 15. With a master's in public affairs from Princeton University and a doctorate in social anthropology from Cornell University, Dr. Chakraverti brings experience in economic research, grassroots community work, ethnographic research, business entrepreneurship, dialogue training and facilitation and strategic program development. Dr. Chakraverti has also taught at the University of California, San Diego and Princeton University.
"We are extremely lucky to have Dr. Chakraverti with us" says Afsaneh Nahavandi, chair of the Department of Leadership Studies. "In addition to bringing considerable expertise and experience to the position, she is both creative and proactive. Her vision and goals for the Leadership Institute are going to help it become a major force in this community and beyond."
Dr. Chakraverti has worked with the Department of Leadership Studies and SOLES for several years in a variety of capacities. Her considerable expertise, experience, energy, creativity and sensitivity make her a great addition to the department and the school. Her position will focus on extending the reach and impact of the Leadership Institute while continuing to build on its unique character and contributions.
"Having worked with leaders from different sectors and parts of the world, I am delighted by USD's integrative and systems approach to leadership" says Meenakshi Chakraverti. "Over and over I've seen that the best leaders integrate and adaptively recalibrate analytical, emotional, social and practical intelligence within a moral framework. This is what the Leadership Institute is building! The Institute builds integrative and adaptive capacity with system awareness and attention to values and ethics. Such capacity -- uniquely human and beautifully complex -- enriches not just the person who builds it, but also the communities within which she or he lives and works. It is wonderfully stimulating and a pleasure to be working with my colleagues and our partners to expand the range and impact of our offerings in education, research and practice."
Most recently, Dr. Chakraverti was Vice President for Program Development at the Public Conversations Project where she worked for 13 years as a practitioner and in program development and management. Dr. Chakraverti's experience supports SOLES' community and global focus: she has worked with a wide variety of leaders and communities in the United States and internationally, including U.S. stakeholders on national energy policy, university leadership, leadership within city government and civil society; and global leadership on gender and conflict prevention and recovery, emerging women leaders from transitional countries, Ethiopian parliamentarians, Israeli and Palestinian journalists, and peacebuilders in Burundi.