SOLES Alumna Attends State of the Union as Special Guest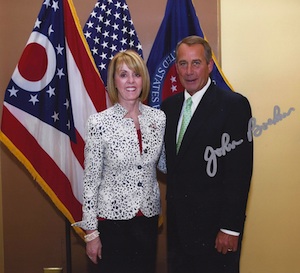 School of Leadership and Education Sciences alumna, Sally Ann Zoll, Ed.D. '76 '90, CEO of United Through Reading, attended President Obama's State of the Union address as a special guest of House Speaker John Boehner.
United Through Reading was recognized for its impact on more than 1.5 million military parents, spouses and children since its inception. The organization gives deployed parents the opportunity to send recorded storybook readings home to their children, which helps to ease the stress of separation and cultivate a love for reading.
"These individuals and the organizations they represent go above and beyond every day to give back, typifying the values of service and citizenship that the State of the Union tradition honors," speaker Boehner said. "It is a privilege to have them as my distinguished guests in the people's House."
General James F. Amos, Commandant of the Marine Corps shared his experience with United Through Reading during an intimate reception attended by Zoll, Speaker Boehner and many of the Joint Chiefs of Staff and their spouses. While he and his wife were in Afghanistan over the holidays, the they sent a video-recording of themselves reading The Night Before Christmas to their grandchildren. The experience had been an emotional one for him, and he recognized the power of the program improve morale.
"It was an amazing opportunity to spend time with the military's leadership and build awareness and cultivate the brand for United Through Reading by updating them in a relaxed atmosphere so they become more familiar with what we do," Zoll said.
The absolute highlight of the evening, for Zoll and many of the guests, was when President Obama recognized Sergeant First Class Cory Remsburg for his service and extraordinary courage. Sgt. 1st Class Remsburg was nearly killed by a massive roadside bomb during his 10th deployment in Afghanistan, and has fought an arduous road to recovery.
Zoll welcomed her son, also named Cory, home from an 11-month deployment this fall, so the moment was particularly emotional for her.
"It was so moving," she said. "The thunderous applause never waivered, and it just really struck a cord with me. It was a moment never to be forgotten."