Heather Carpenter Has 'Dream Job' At Grand Valley State University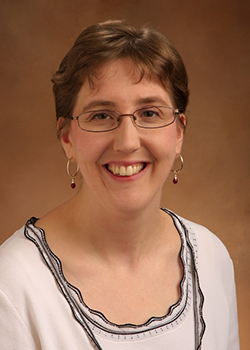 Heather Carpenter '11
Assistant Professor, Nonprofit Management
School of Public, Nonprofit and Health Administration
Grand Valley State University, Grand Rapids, Michigan
Heather Carpenter, PhD, has designed both a Finance Fund Development course and a Nonprofit Technology course since she began teaching in the Nonprofit Management program at Grand Valley State University in January of 2012. She also teaches Nonprofit Management Practices and Human Resources courses for the program.
Carpenter earned her doctorate degree in Leadership Studies with a concentration in Nonprofit Leadership and Management from the School of Leadership and Education Sciences (SOLES) in 2011.
"The doctoral program focuses on Leadership theory and practice, which helped me in my learning about leadership theory but also in my personal development. It really helped me to be successful," Carpenter said. "SOLES and really prepared me for my position."
During her studies, Pat Libby, Laura Deitrick, and Bob Donmoyer and Carpenter's other professors prepared her to present at academic conferences and enhanced her writing. Carpenter published her first article in the Journal of Public Affairs Education, written in a class taught by Steve Gelb. "If it wasn't for their mentoring I wouldn't be a tenure-line faculty member."
Prior to her doctorate, Carpenter worked as a nonprofit manager and brings this valuable practical experience and examples into the classroom. Serving as a teaching assistant and then a co-instructor for Pat Libby "really helped to develop my teaching skills," Carpenter said.
Carpenter was also a graduate assistant for SOLES' Caster Family Center for Nonprofit and Philanthropic Research and found she was passionate about working on research projects. The opportunity to work on similar projects at the Johnson Center for Philanthropy at Grand Valley State was part of what was particularly attracted her to the university.
"I'd definitely say I'm in my dream job," Carpenter said. "It's really great because I get to teach the classes that I want to teach, and they really value my practical background and applied research just like USD does."