Dan Tillapaugh Teaching Class he Helped Develop in SOLES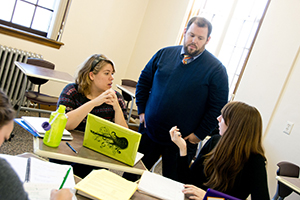 Dan Tillipaugh, PhD '12
Postdoctoral Fellow in Higher Education
School of Education and Human Development
University of Maine
During his doctoral studies in Leadership Studies at SOLES, Daniel Tillapaugh, PhD, worked with Cheryl Getz, EdD, to construct and teach the Meaning Making and the Collegiate Experience class for master's students in higher education leadership.
Tillapaugh is continuing to develop and teach the same curriculum at the University of Maine where he begins his second year a postdoctoral fellow in Higher Education at the School of Education and Human Development.
During his time at SOLES, Getz encouraged Tillapaugh to approach the class from a problem-based learning perspective. "I'd never thought about having students tackle situations in which they have to create the issue themselves based around reality and real life issues," he says.
Teaching from that perspective, especially as a solitary instructor, is an investment of time and energy, but is worth the hard work. "It was fascinating last semester getting my teaching evaluations back. Almost all of the students said that one of the things that was most valuable to them about the course was the project-based learning style and the large semester long assignment."
As a doctoral graduate assistant for the leadership studies minor at SOLES, Tillipaugh practiced teaching and learned to become comfortable with silence to give students time to process.
"People approached learning from unique ways" says Tillipaugh. "Some faculty are great lecturers, and some are great experiential advocates, and being able to see that in action and to tap into that myself helped me to become a reflective instructor."