MTLC Receives Major Gift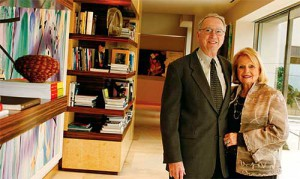 From Inside USD -- Longtime philanthropists and supporters of innovation in education, Dr. Irwin Jacobs and Joan Jacobs have pledged $3,000,000 to the University of San Diego's School of Leadership & Education Sciences's (SOLES) Mobile Technology Learning Center (MTLC). SOLES Dean Paula Cordeiro said, "The Jacobs' share our belief that the future of education must include innovative technologies. Approximately 1.2 billion people possess mobile devices powerful enough to deliver rich web experiences, and the total number of web-enabled mobile phones eclipses the estimated one billion personal computers on earth. We must harness this technology to educate our children and our workforce."
There will be a press conference to announce the gift on Monday, June 17 at 10 a.m. at the Garden by the Sea, located behind the Joan B. Kroc Institute for Peace & Justice. Irwin and Joan Jacobs, USD President Mary Lyons, SOLES Dean Paula Cordeiro, and superintendents from San Diego area schools will be in attendance. The press conference is open to the media and public.
The Jacobs' generous gift to SOLES will go toward the teaching, research, and technology components of the center's plan and provide the funding needed to hire an internationally recognized director.
"Having led and experienced organizations that participated in rapid adoption of new technologies, the Jacobs appreciate the importance of educators learning about what works as quickly as possible so we can all effectively use technology to impact and improve student learning worldwide," said Cordeiro.
Dramatic change is needed in understanding K-12 learning due to the major disconnect between the many technologies currently available to K-12 educators and their actual use (penetration) in schools.
The MTLC anticipates significant outcomes over the next five years:
Create, in the state of California and at the national level, a climate of policy supportive of mobile learningSignificantly increase the number of classrooms and schools — locally and nationally — that regularly use mobile learning technologiesEstablish an organization which can act as a clearinghouse for "best practices" worldwide in the application of mobile learning technology in educationAdvance, cultivate and encourage widespread conversations by thought leaders and educators, locally, and nationally, and worldwide
SOLES educators believe that there are two key barriers to why many forms of technology are underutilized or ignored by educators: 1.) poor access to schools for collaborative research, and 2.) limited funding for technology. These factors are magnified when lack of access in minority, rural and low socioeconomic student populations are taken into account.
– Melissa Wagoner
Photo courtesy of PCMag.com