John Franey, PhD, Joins CEPAL Staff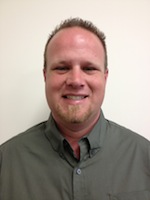 CEPAL welcomes John Franey!
John Franey, Social Sciences Research Associate
Ph.D., University of San Diego: Leadership Studies
M.A., California State University, San Marcos: Teaching, Learning, & Leadership
B.A., Harvard University: Folklore & Mythology
John is a Social Sciences Research Associate at both the Center for Education Policy and Law and the Mobile Technology Learning Center. John is a 2013 graduate of the University of San Diego's School of Leadership and Education Sciences Ph.D. program. His dissertation work focused on aspiring school leaders' development of instructional leadership capacity and instructional coaching skills. Prior to joining CEPAL and MTLC, John spent the last decade as a teacher in the Valley Center-Pauma Unified School District. He also served for two years as the district's Coordinator of Emergency Preparedness, where he led the process of aligning the district's emergency preparedness plans to the federally mandated National Incident Management System. He holds Single Subject Teaching Credentials in Physical Education and English, and Literature, as well as a certificate for eligibility for a California Administrative Services Credential. John specializes in the use of qualitative research methods to better understand the K-12 educational system through the lenses of educational reform, instructional leadership, professional development practices, mobile technology implementation, school contexts/cultures, transformation of perspectives, and human developmental theory.