Subscribe to our Newsletter
Sign up for Kroc School News and Events
Join nearly 10,000 Changemakers when you subscribe to the Kroc School's monthly e-newsletters. Subscribe
Two Kroc School Affiliate Faculty Earn University Awards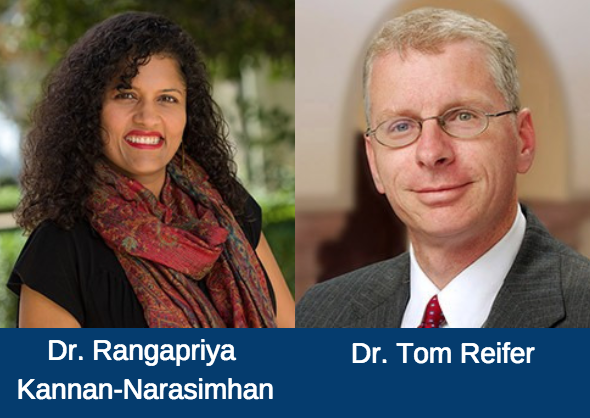 In February 2018, among seven other USD faculty, Dr. Rangapriya (Priya) Kannan-Narasimhan, School of Business, and Dr. Tom Reifer, College of Arts and Sciences, received university awards.
Dr. Kannan-Narasimhan earned a Steber Professorship, which recognizes substantial contributions in the areas of teaching, research, and service and are limited, by the intent of the donor, Clarence L. Steber, to faculty in the School of Business and the Department of Theology and Religious Studies.
Dr. Reifer earned a University Professorship, the highest academic honor bestowed university-wide and given in recognition of outstanding scholarly achievements in teaching and research.
Both Dr. Kannan-Narasimhan and Dr. Reifer are Kroc School affiliate faculty. They shared the following comments about their awards.


What does it mean to you to have earned this award?
Dr. Kannan-Narasimhan: I am grateful and honored to have received the award. Each one of our faculty members at the University of San Diego are exceptional at what they do so, I was touched when I received the Steber Professorship.

Dr. Reifer: Having been born to heroin addicted parents in Spanish Harlem, and running away from home in Orange County, California at 13 to escape violence, never graduating from high school, but getting involved in movements for social change on the streets and going on to get a BA, MA and PhD in Sociology and today a Full Professor, I like to think of this award as part of a story of redemption, like Jean Valjean, or Tupac's rose that grew from concrete. Yet having long been a Freedom Writers Teacher at heart and now an official one, the real award is changing the world with my wonderful students and colleagues at USD, and new Freedom Writer family.


How does this award impact your upcoming work at USD?
Dr. Kannan-Narasimhan: From what I understand, the Steber Professorship recognizes a faculty member's contributions in teaching, research, service, and contribution to mission. Over the past decade, my research focus has been on how to create change under resource constraints. Currently, I focus on sustainable innovations and emerging economies. My research stream informs my teaching and my innovation efforts on campus as it relates to USD's mission. The recognition of my work through this award encourages me to continue my life's journey of helping innovators overcome constraints to realize their dreams.

Dr. Reifer: The award encourages me in my quest to help all sentient beings overcome suffering by creating a world of human flourishing, especially through universal free access to education through college and beyond.


What is the next milestone or achievement you're looking forward to, and why?
Dr. Kannan-Narasimhan: I would like to increase the impact of my research and teaching so that it enhances our University's reputation, and focus on Changemaking on a global basis. Right now I am involved in two last mile projects in India—one on rural healthcare service to villages that have no access to health and the other on solar lighting in rural India with little access to power. While we all know of Elon Musk's vision in creating an electric vehicle ecosystem, there are several such entrepreneurs throughout the world in emerging economies who are creating such infrastructures for social innovations. This research will inform me to design courses and initiatives where we can train our students to be the future generation of such entrepreneurs that can create change on a global basis.
Dr. Reifer: I'm looking forward to becoming Chair of the Sociology Department at USD, helping our wonderful students and faculty in the College of Arts and Sciences and other USD Schools to flourish. I'm excited to show how a liberal arts education can allow all of humanity to lead flourishing lives while confronting humanity's greatest challenges—overcoming violence, poverty, racism, sexism, inequality, militarism and global climate change—and embrace a redemptive global vision based on human dignity, global solidarity and a new relationship of humans with nature. I'm looking forward to finishing two books, Lawyers, Guns and Money: Wall Street & the American Century, and American Dreams & Dreams Deferred, the latter with my amazing friend and colleague, Department of English Professor, Dr. Carlton Floyd.
__
To learn more about Dr. Kannan-Narasimhan and Dr. Reifer as well as the other faculty at the Kroc School, visit the Kroc School's Faculty and Research page.