Subscribe to our Newsletter
Sign up for Kroc School News and Events
Join nearly 10,000 Changemakers when you subscribe to the Kroc School's monthly e-newsletters.
Subscribe
The Center for Peace and Commerce kicks off the 2018 edition of the Women Innovators Initiative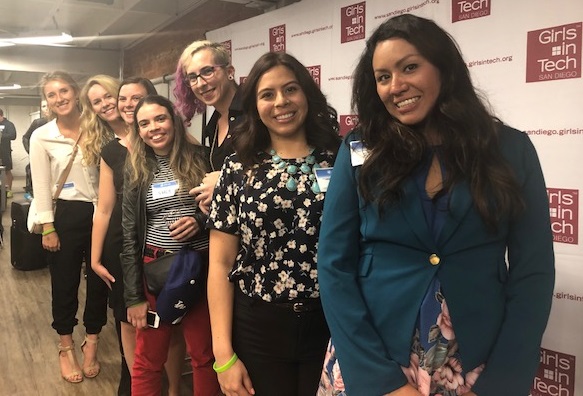 The Center for Peace and Commerce (CPC) continues to build momentum and expand its impact in the world of social innovation into 2018 via our Women Innovators Initiative (WII). The WII aims to inspire, encourage and prepare female students to become innovators and entrepreneurs for social change.
While the WII has been an integral part of the CPC since its inception in 2015, the recent international expansion of the Global Social Innovation Challenge has generated opportunities to reimagine our vision to champion women innovators. The CPC aims to enhance the quality of the WII and elevate USD female student engagement by providing unique experiences in the San Diego community to gain the knowledge, skills, and support necessary to address the challenges that women face in entrepreneurship.
Last week, five women innovators from USD attended San Diego Startup Convergence panel event, hosted by Girls in Tech. Two panels of women with backgrounds in entrepreneurship, tech, human resources, and leadership shared their personal stories, challenges, and successes. Kroc School graduate student, Bianca Alvarado, reflected that "seeing the diversity of the panel gave me courage." Students also said that they learned the importance of seeking out not just mentorship, but sponsorship from powerful men and women in organizations in order to advance women's opportunities and propel their careers forward.
In addition, the Center for Peace and Commerce hosted four undergraduate women from Ewha Women's University in Seoul, South Korea. These students plan to implement the processes and practices of social innovation in their university and traveled to the U.S. to learn from top universities, including USD, that are leading the charge. The CPC's leadership team spent the day with Ewha students discussing partnership opportunities, learning about their initiative, and exchanging ideas.
Throughout a year of experiences like these, women innovators will enrich their connection to the social entrepreneurship ecosystem, receive mentorship from powerhouse female entrepreneurs, and increase their access to capital and other resources needed to refine their ideas and fund successful ventures.