Subscribe to our Newsletter
Sign up for Kroc School News and Events
Join nearly 10,000 Changemakers when you subscribe to the Kroc School's monthly e-newsletters.
Subscribe
WSI: No More Human Trafficking-Stories, Statistics, and Solutions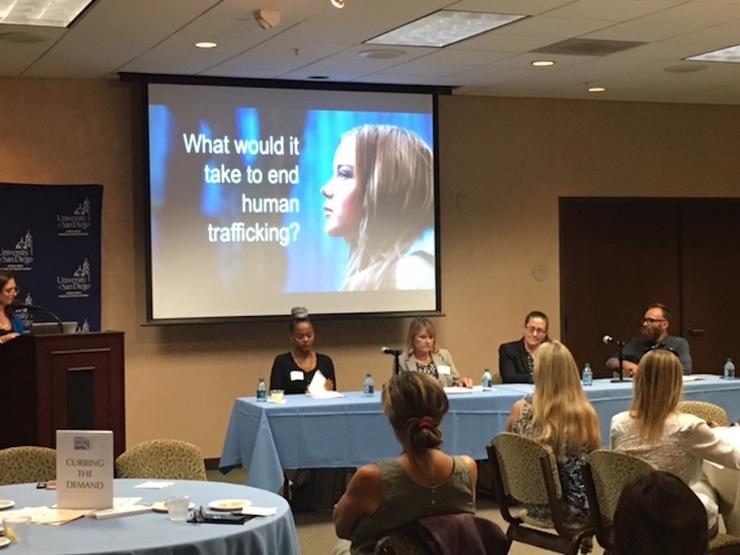 Regardless of social progress in this modern world, millions of people (often women and children) are enslaved, becoming victims of most horrendous forms of labor and/or sexual exploitation. Where have we gone wrong? What can we do to eradicate human trafficking locally and everywhere in the world? Human trafficking cannot be acceptable to anyone. It must stop. In this WSI Experience we will reflect with academics, practitioners and survivors on the complexities and dimensions of human trafficking while learning about creative solutions to this problem. An outcome of this WSI Experience is to know diverse ways in which we can be more involved and contribute to change this unacceptable order of things. As a member of WSI - you are invited to bring one new guest to each experience. We look forward to seeing you in September!
Panelists:
Austin Choi Fitzpatrick, Assistant Professor, Kroc School of Peace Studies, University of San Diego. Author of What Slaveholders Think
Melanie Delgado, Director of Transition Age Youth Projects/Staff Attorney, Children's Advocacy Institute, University of San Diego School of Law. Anti-trafficking advocacy efforts in San Diego.
Hon. Carolyn Caietti, Presiding Judge of the San Diego County Superior Court, Juvenile Division. Learn about the new RISE Court for children identified as victims of commercial sexual exploitation.
Ebony Jones, Survivor-Leader, STARS Peer Support Partner & Child Welfare Services CSEC Consultant & Trainer.