Subscribe to our Newsletter
Sign up for Kroc School News and Events
Join nearly 10,000 Changemakers when you subscribe to the Kroc School's monthly e-newsletters.
Subscribe
Women Peacemakers: Global Security Through a Gender Lens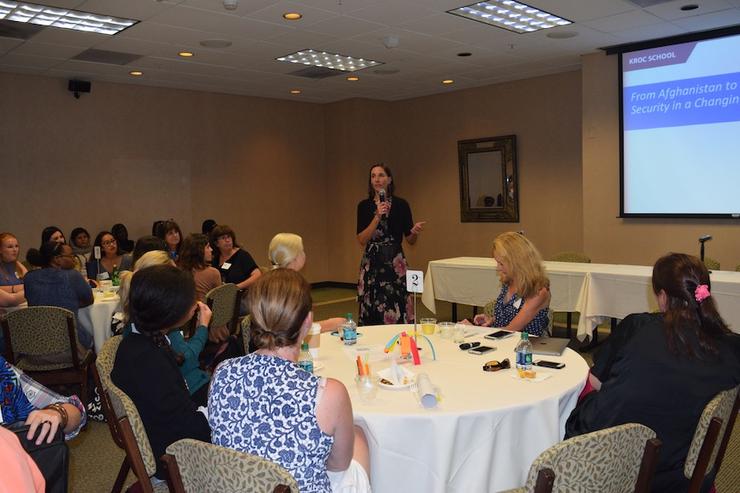 Across the globe, women are increasingly challenging the status quo to address issues of security in their nations. Often breaking through both cultural and gender barriers in their powerful work, these women leaders are building safer communities, nations and global society.
Hear the stories of four women peacemakers from around the globe who have broken the barriers of gender roles in this arena. Each of them is making incredible impact for greater security and peace in their countries with far reaching global benefits. We will engage with these courageous women and explore shared experiences in our own communities and lives.
The 2017 Women Peacemakers are:
Wazhma Frogh is a pioneer in her native Afghanistan, working for women's inclusion in security sector reform processes, with a particular focus on women in the police force. In 2009, she was a recipient of the U.S. State Department's Women of Courage award.
Rochelle "Bibing" Mordeno, Executive Director of Balay Mindanaw, an organization of Muslim, Christian and Indigenous NGOs in Mindanao, the Philippines. Mordeno is a leader in police reform, training over 2,000 police officers to use peacebuilding approaches on the conflict affected island.
Sabrina Mowlah-Baksh, is a former deputy mayor, councilwoman, gang negotiator and tireless advocate against gun violence in her Caribbean nation of Trinidad and Tobago. Her work culminated in the historic signing of the Arms Trade Treaty by the CARICOM (Caribbean Community) region.
Yamoundow Jange Joof, Jange knows first hand the need for women to be involved at all levels of peace and security decision making. She has been a police officer in the Gambia Police Force since 1984, its first female head of the Gender and Child Protection Unit, and served as a UN Peacekeeper in Liberia and Darfur.