Subscribe to our Newsletter
Sign up for Kroc School News and Events
Join nearly 10,000 Changemakers when you subscribe to the Kroc School's monthly e-newsletters. Subscribe
Kroc School Introduces Women Waging Peace Network at USD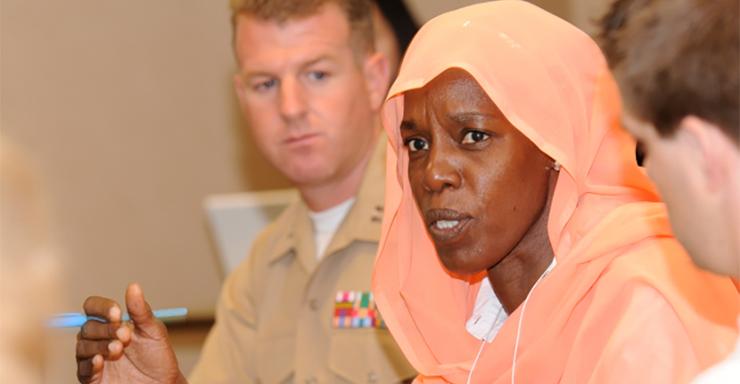 The University of San Diego Kroc School's Institute for Peace and Justice is holding an inaugural event tonight, Dec. 6, to celebrate the launch of the Women Waging Peace Network, now housed at the Kroc IPJ.
Founded by United States Ambassador Swanee Hunt, the Women Waging Peace Network is a preeminent global network of more than 1,000 women peacemakers from conflict areas around the world. The network was launched in 1999 to connect these women with each other and with policy shapers. Members of the network, are leaders among women peacebuilders, many of whom are elected and appointed government officials, directors of non-governmental organizations and trailblazers within civil society, scholars and educators, business people, representatives of multilateral organizations, and journalists.
Now housed at the Kroc IPJ, the network will continue to pursue strategies for global advocacy to ensure women inform and influence U.S. and international policy agendas on women, peace and security.
The program, which starts at 6 p.m. in the Peace and Justice Theatre, will feature peacemakers who are working on conflicts around the globe. The speakers are:
• Colombian peacemaker Rosa Emilia Salamanca worked between the government and the Revolutionary Armed Forces of Colombia to develop one of the most inclusive peace agreements.
• Visaka Dharmadasa is committed to conflict prevention and resolution in Sri Lanka, and seeks to reconcile communities across the island following the decades-long civil war.
• Hamsatu Allamin has spent years closely working with her own communities affected by and a part of Boko Haram to find solutions to end the cycles of violence.
These members of the network will join Hunt in a dialogue on the most pressing issues related to women's rights and peacebuilding across the world.
Tonight's event is part of Peace exChange, a new event series at the Kroc School that will catalyze new and innovative thinking among all of us in San Diego on how we can build inclusive, peaceful communities here and around the world.
Click here for more information or to RSVP to attend the event.
— Pamela Gray Payton