Subscribe to our Newsletter
Sign up for Kroc School News and Events
Join nearly 10,000 Changemakers when you subscribe to the Kroc School's monthly e-newsletters.
Subscribe
It's Not Too Late to Register For A New PJS Intersession Course! The Social Fabric Initiative: Engaging Youth as Leaders and Changemakers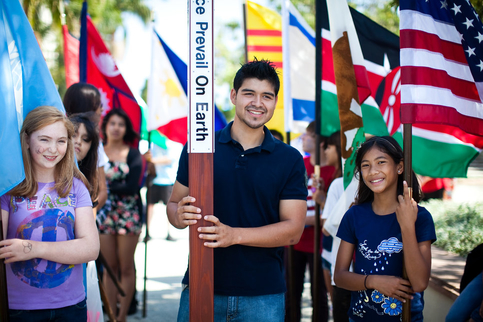 Introducing the Social Fabric Initiative (SFI), a new WorldLink project designed to build dense social networks among youth within San Diego county. The goal: to build more connected, peaceful communities by engaging diverse teams, made up of USD and local high school students, in solving problems they identify in their communities.
Special Topics 494 - Youth Innovating for Community Solutions:
1-credit, undergraduate intersession course.
• Help catalyze the creation of dense social networks within San Diego county.
• Learn about what it takes to become emerging changemakers and change leaders.
• Develop leadership and project management skills through hands-on skill-building exercises.
• Experience a diverse lineup of site-visits to local organizations with big impact.
PJS 498 - Field-based Internship for the Social Fabric Initiative:
3-unit engaging and interactive internship focused on project management and leadership:
• Act as project lead to manage small teams of local high school youth to create impact.
• Work collaboratively to develop creative solutions to address community needs.
• Participate in Social Fabric Initiative Launch and Summit events.