2017 Women PeaceMakers Arrive, Take Part in Reimagined Program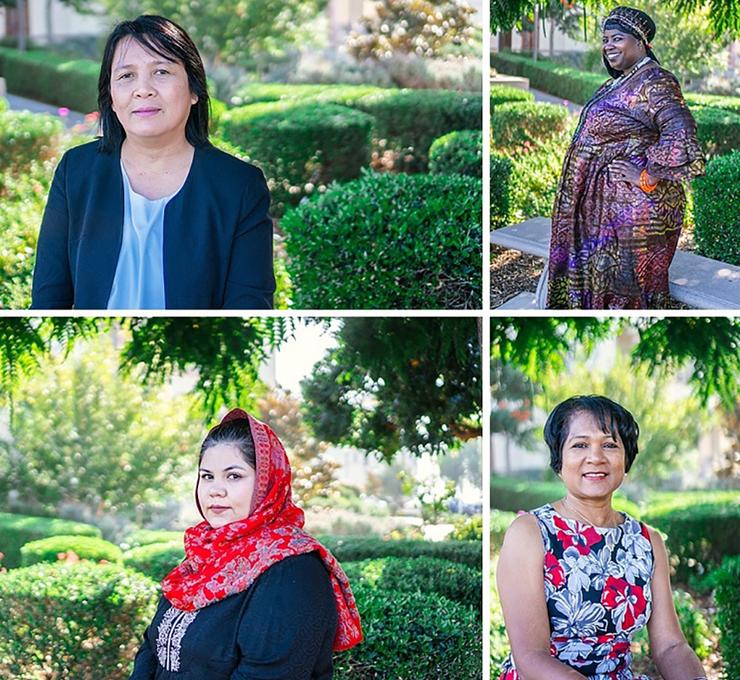 The Kroc Institute for Peace and Justice is pleased to announce this year's Women PeaceMakers from Afghanistan, The Gambia, the Philippines, and Trinidad and Tobago, respectively. Wazhma Frogh, Yamoundow Jagne Joof, Rochelle Mordeno and Sabrina Mowlah-Baksh are in residence at the Kroc IPJ from Sept. 24 until Nov. 11, 2017, to begin their 10-month fellowship in the re-imagined Women PeaceMakers program.
On the 15th year of this award-winning program, the institute is excited to launch an expanded program to better learn with these powerful, innovative leaders. The program will engage in that learning with faculty, students and practitioners here and build deeper collaborations with a cohort of international peace partners, to better learn how to end cycles of violence around the world.
You can view their bios below or here. The Women PeaceMakers will participate in multiple campus events, including an Oct. 17 lunch and art event through the USD Changemaker Hub in Kroc IPJ Room G from 12:30-1:30 p.m. and the annual panel discussion on Oct. 25 in the Kroc Peace and Justice Theatre.

Two distinguished peace researchers have also come to the Kroc IPJ this fall for the residency — Kyleanne Hunter and Kimberly Loh — to explore the strategies and approaches each of the four Women PeaceMakers employs in their work with the security sector, which is the focus of this year's program. Their bios are also below.
Yamoundow Jagne Joof — The Gambia
Yamoundow Jagne Joof knows firsthand the need for women's full participation in peace and security decision-making. Jange has been a police officer in The Gambia Police Force since 1984, and was the first female officer to head the Gender and Child Protection Unit. She is the regional gender and child welfare office for the Kanifing Region, the most densely populated area in The Gambia. She joined the force to be a "part of the systems or structure that will protect and promote the welfare of [the] vulnerable and less privileged." In her work she often liaises with The Gambia Immigration Department, Department of Social Welfare, Justice Ministry, Ministry of Health, civil society organizations and foreign embassies.

Jagne has also served as a peacekeeper in Liberia and Sudan. As part of UNMIL, she facilitated the reintegration of more than 200 ex-combatants (men and women) back into their communities. They were organized into an association called Progressive Youth for Development in Liberia, which focused on a variety of entrepreneurship activities. In Darfur, Sudan — for UNAMID — she served as both the child protection officer and gender desk officer.

Jagne often appears on the radio and television in The Gambia to engage the public on debates on human and children's rights, women's rights, peacebuilding and conflict resolution. For her "outstanding performance and benevolent contribution to the protection of Gambian women and children," she has been awarded the Medal of National Order of the Republic of The Gambia.
Sabrina Mowlah-Baksh — Trinidad and Tobago
Sabrina Mowlah-Baksh began her social activism as a teenager addressing issues related to violence against women. She is a founding member of the Women's Institute for Alternative Development (WINAD) in Trinidad and Tobago and a former councilwoman and deputy mayor of her city of San Fernando. Utilizing her interest and expertise in women's security, she was integral to WINAD's pioneering initiatives on gun violence, which resulted in the organization becoming the secretariat for the Coalition for Development and the Reduction of Armed Violence. This work culminated in the historic signing of the Arms Trade Treaty by the CARICOM (Caribbean Community) region.
An attempted coup in Trinidad and Tobago in 1990 led to the proliferation of gun violence in the country. WINAD's work began with a "No Guns for Christmas" campaign, which called on parents to desist from purchasing toy guns for children as Christmas gifts. This ignited Mowlah-Baksh's engagement in the security sector. Her journey included meeting with perpetrators of gun violence, such as gang leaders; negotiating peace agreements in communities; capacity building for government and civil society through UNLIREC (UN Regional Centre for Peace, Disarmament and Development in Latin America); and women's involvement in security issues.
Mowlah-Baksh holds an MSc in gender and development from the University of the West Indies. She is a member of the Caribbean Civil Society Advisory Group for UN Women, Caribbean.
Wazhma Frogh — Afghanistan
Wazhma Frogh is the director of the Women & Peace Studies Organization (WPSO) — Afghanistan, formerly known as the Research Institute for Women, Peace & Security, which she co-founded in 2012. It is one of the few civil society organizations in Afghanistan that is working for women's inclusion in security sector reform processes, with a particular focus on women in the police force. She has been a senior advisor on women in security and human rights for the Afghan Ministry of Defense and a deputy chief of staff to the Afghan Ministry of the Interior.
Frogh and her co-founder conceptualized the Research Institute following their participation in Afghanistan's Peace Loya Jirga in 2010, in which they recognized the absence of women's voices and perspectives from these conversations. Since then, she has worked with women leaders from all over the country to ensure that women are utilized as resources for building peace at the local level and that they are meaningfully included in the country's peace process.
As part of her longstanding activism, Frogh also continues to lobby for women's inclusion in the security sector. With the Ministry of Interior, she helped develop a five-year strategy for women's recruitment, retention, capacity building and protection within the police force. Based on fieldwork in Kunduz on the role of private madrassas, Frogh and WPSO lobbied the government for a national strategy for countering violent extremism. She is also co-chair of the Women, Peace and Security Working Group for the implementation of the National Action Plan on U.N. Security Council Resolution 1325. Nominated by civil society and women's rights groups, the president appointed Frogh and other key women leaders to the High Peace Council.
Frogh is part of the Women Waging Peace Network, a partnership between the Joan B. Kroc Institute for Peace and Justice and the Institute for Inclusive Security. She received the U.S. Department of State's International Woman of Courage Award in 2009.
Rochelle "Bibing" Mordeno — Philippines
Rochelle Mordeno, known as Bibing, is the executive director of the Balay Mindanaw Foundation, Inc. (BMFI), based in Mindanao, Philippines. BMFI works to build a Mindanao which is truly a home (balay) for its tri-peoples: Muslims, indigenous peoples and Christian migrants. She began her development and peacebuilding work after working as a teacher for many years, and took on the roles of community organizer and paralegal officer in rural communities.
Mordeno, the daughter of a police officer, was a progressive student activist while in high school and college. She and BMFI later identified the need to confront abuses by the military and police, but also to engage them in processes for peace and development.
BMFI and Mordeno have trained more than 2,000 military and police officers in peace education. The organization is involved in the ongoing peace processes in Mindanao, and sits on the civilian oversight committee on the implementation of the Internal Peace and Security Plan of the Armed Forces of the Philippines. Mordeno was instrumental in forging a formal partnership with the Eastern Mindanao Command, in which troop members undergo Balay's peace courses and commit to peacebuilding initiatives in their respective areas of responsibility. She has been recognized internationally for her peacebuilding engagement with the security sector, including as a subject matter expert on emergency response, conflict analysis and conflict transformation at the German Armed Forces Command and Staff College in Hamburg, Germany.
Mordeno is one of the key leaders in Women Engaged in Action (WeAct) 1325, which is responsible for the initiative on "women working on the ground" in Mindanao, implementing an early warning system and preventing escalation of local conflicts, including engaging with local state security forces and non-state armed groups. She is also part of the Action Asia Peacebuilders Network, and has a master's degree in Applied Conflict Transformation Studies.
Peace Researchers
Kyleanne Hunter
Kyleanne Hunter is a PhD candidate at the Josef Korbel School of International Studies at the University of Denver. Her dissertation research focuses on the variation in women's participation in Western militaries, focusing on the cases of France, Norway and the United States. It takes a historical institutionalist approach, using most-similar case study design to explain the variations in women's military integration through understanding the role of women's movements in shaping public policy and narratives around the role of women in public life. In addition to academic conferences and journals, her work has been featured in the New York Times, Washington Post, CNN, Al Jazeera and NPR.
In addition to her own research, Hunter has been involved in the Program on Nonviolent and Violent Campaign Outcomes (NAVCO), the Major Episodes of Contention project (MEC) and the Nonviolent Strategies in Violent Conflicts research programs.
Prior to graduate school, Hunter spent over a decade as a United States Marine Corps Officer. She flew the AH-1W "Super Copra" attack helicopter in multiple combat deployments. Her non-flying tours included three years as a Congressional Fellow and Legislative Liaison Officer for the Marine Corps to the U.S. House of Representatives. In this role she also served as the military liaison for the House Democracy Partnership. She currently serves on the Secretary of Defense's Defense Advisory Committee for Women in the Services (DACOWITS).
Kimberly Loh
Kimberly Loh specializes in conflict transformation and peacebuilding and is a graduate of Columbia University's master's program in negotiation and conflict resolution. Currently based in New York, she has supported the work of Nonviolent Peaceforce, Mediators Beyond Borders and the United Nations Department of Peacekeeping Operations.
Growing up between Southeast Asia and the UK, her research interests reflect her diverse sources of influence: utilizing intersectional and culturally sensitive lenses when examining notions of gender, identity, group dynamics, power, protest and dialogue. She has a keen interest in promoting locally authored peace initiatives that employ nonviolent strategies and empower communities. In 2016 she traveled to Uganda as a research fellow, exploring mediation and narrative storytelling in building sustainable peaceful solutions in post-conflict settings.
Loh is a trained mediator, UK-qualified lawyer and holds undergraduate degrees in law from University of Law, London and ethical philosophy from University of Sussex.
— Compiled and written by Emiko Noma, Kroc IPJ senior editor and writer