Fall Brings New Interns to the Kroc IPJ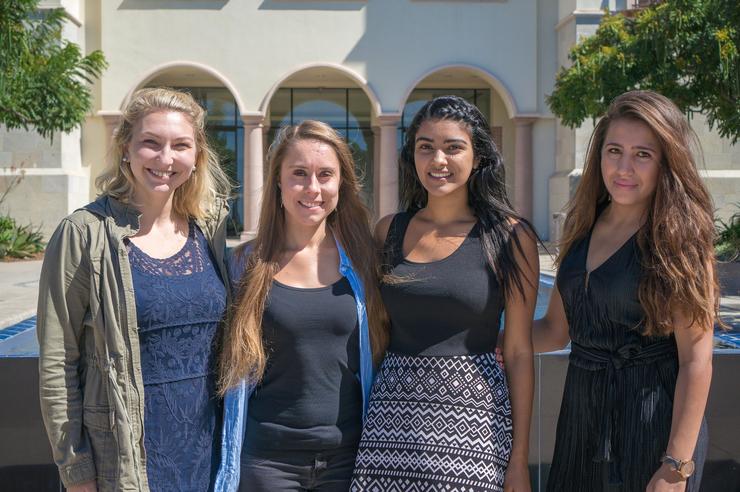 begin quote

What really stirred me to apply for this internship is the opportunity to learn.
"The work of the Kroc Institute for Peace and Justice reflects the work I hope to be a part of one day. I'm a strong believer in promoting positive change from within communities, as opposed to forcing change upon them…This internship offers exposure to issues that I have been passionate about for years."
Thus wrote Zamzama Azizi in her application essay to the Kroc Institute for Peace and Justice (Kroc IPJ) Internship Program. Azizi, now in her first year of law school at the University of San Diego, is one of three new interns to join the Kroc IPJ for Fall 2017 where she will be working on the Women PeaceMakers Program. As the child of refugees from Afghanistan, she is committed to working with vulnerable populations, especially women and girls. She hopes to one day put her legal training into practice as a human rights lawyer.
During her Semester at Sea, Jenny Wakefield saw first-hand violence, racism, exploitation, and poverty, an experience that deepened her commitment to protecting the rights of women and children. After graduating next spring from USD with a degree in political science and a minor in peacebuilding and social innovation, Wakefield plans to pursue opportunities in the non-profit sector working with youth and women. This semester Wakefield joins the Kroc IPJ to work on the institute's Emerging PeaceMakers projects.
Jasmeen Bains is driven by personal experience to help bridge divides between law enforcement and community, something she will be working on throughout this semester as an intern with the Kroc IPJ's Building Trust Partnership. Bains has been an active part of the USD community through organizations like the South Asian Student Alliance and the Phi Alpha Delta pre-law fraternity. She will graduate in the spring with a BA in business administration and a minor in international relations.
These individuals join Eva Sellen who has been interning with the institute since the beginning of the summer. Sellen, who previously supported the Washington Mandela Fellows residency, has shifted her focus to a number of different Kroc IPJ programs, including the Nepali Emerging Leaders Program and the recently hosted RESOLVE Institute with visiting scholars from Bangladesh. Sellen will complete her master's degree in peace studies from the Paris Dauphine University in France when she finishes her internship in late October.
For more information about their impressive backgrounds, current interests, and future plans, read the full biographies of the IPJ's interns here.