Subscribe to our Newsletter
Sign up for Kroc School News and Events
Join nearly 10,000 Changemakers when you subscribe to the Kroc School's monthly e-newsletters.
Subscribe
Emerging PeaceMakers Tackle Nepal's Toughest Challenges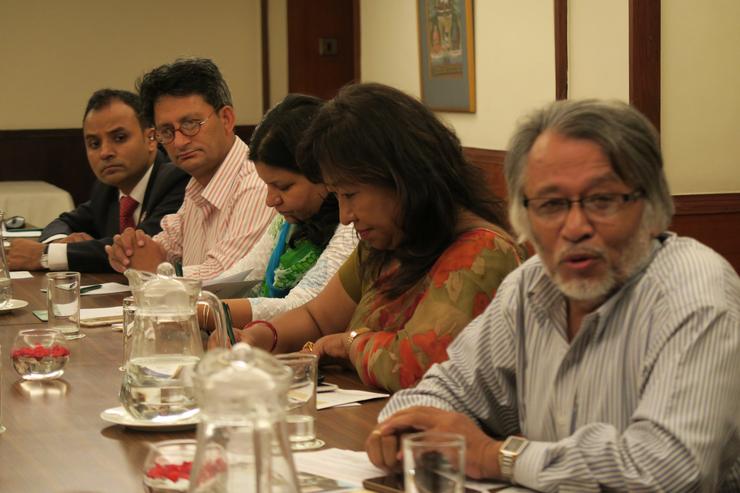 In September, Kroc IPJ Program Officer Daniel Orth was in Kathmandu, Nepal, working alongside staff from a local partner organization, the Leadership Academy, to make final preparations for the 2018 launch of The Nepali Emerging Leaders Program — part of the Kroc IPJ's efforts to create powerful communities of more effective PeaceMakers.
The program will create a cohort of emerging leaders, ages 25 to 40, who are able to disrupt cycles of conflict and violence by constructively engaging government actors and institutions to address community needs — in particular, the concerns of youth. The program will provide the skills, knowledge, connections and ongoing support needed to work within their communities. But beyond better individual leaders, the program creates a cohort of leaders working across Nepal that is able to disrupt social hierarchies to create demand for community engagement, especially youth voices.
After a competitive, nationwide application process, 28 participants have been selected, one male and one female, from each of Nepal's 14 geographic zones. They represent a diversity of ethnic, geographic, caste and political backgrounds. While in Nepal, Orth met with participants to learn about their leadership backgrounds and where they see the current challenges in the country.
The program will help participants leverage the support of political elites by pairing them with senior-level leaders – elected government officials and political leaders and senior civil society leaders – to serve as mentors, creating an intergenerational cohort of established and emerging leaders committed to peace. Orth met with some of the mentors who will be providing support and guidance to participants, including four-time former Prime Minister Lokendra Bahadur Chand and former Chief Justice of the Supreme Court Khil Raj Regmi.
Three experts from the fields of law, security and communications will provide further assistance and consultation on skills-building and how best to support emerging leaders in Nepal to create a more peaceful and just country for all its peoples.
For more information about or to support the Nepali Emerging Leaders Program, please contact:
Daniel Orth, Program Officer
619-260-4066