Social Innovation Challenge Winner Selected as REDF Accelerator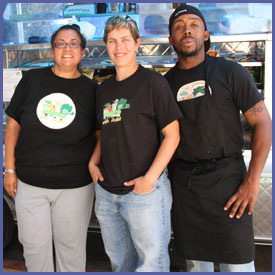 In partnership with the Points of Light Civic Accelerator, the REDF Accelerator receives expert guidance on core business competencies, employee support programs and the opportunity to plug into a network of their peers.
The REDF Accelerator combines a cohort of talented social enterprise leaders like Teresa Smith, who is using the transitional employment model in order to help employees overcome barriers to employment in order to successfully transition them to competitive and long-term employment.
Teresa founded the organization, Dreams for Change, in May 2009 while pursuing her MA in Nonprofit Leadership and Management degree at USD in order to achieve the goal of helping families and individuals who have been affected by the financial downturn. The idea behind Dreams for Change was to draw upon useful documented practices for decreasing poverty and to apply those practices to meet the needs of this struggling population. The organization also sought to fill in the gaps of government and social services, to use out-of-the-box collaborative models in order to serve its clients, to operate with lean efficiencies and to utilize innovative strategies for accomplishing its work.
After founding her non-profit organization, Teresa was one of the winners in the Social Innovation Challenge in 2012 and 2013. Teresa's first year, she entered an idea for a mobile catering food truck that would provide healthy food to Calfresh card holders. Later, in 2013, Teresa entered her safe parking idea into the San Diego Social Innovation Challenge, a student-venture contest for socially conscious businesses or innovative nonprofit ideas organized by the University of San Diego's Center for Peace and Commerce.
Now with the prestige of only selecting eighteen employment-focused social enterprise leaders, being a REDF Accelerator, will turbocharge her learning and deepen her connections. Along with these seventeen entrepreneurial leaders, her training from experts on core business competencies and employee support programs will enrich her knowledge on peacebuilding, to create stronger communities.
To learn more about Dream for Change, visit: http://www.dreamsforchange.org/