Mandela Washington Fellowship Leaves Lasting Impact for Kroc IPJ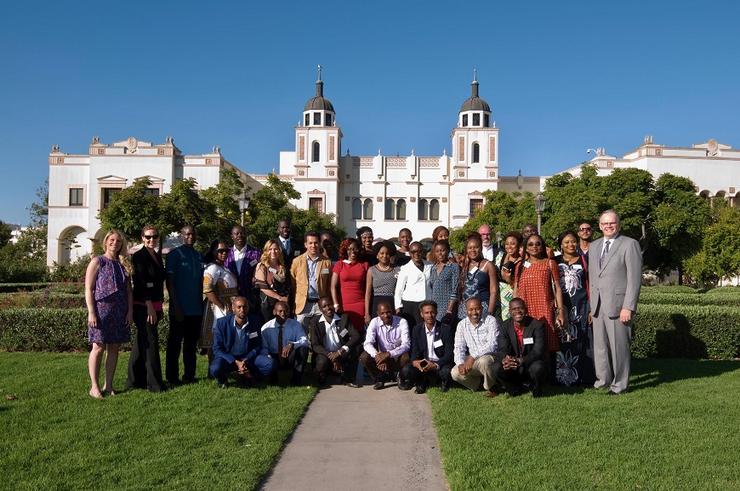 The Mandela Washington Fellowship for Young African Leaders, a flagship program of the Young African Leaders Initiative (YALI), wrapped up in late July after the 25 Fellows completed their academic residency at the University of San Diego (USD) and then reunited in Washington, D.C., with the 975 others who participated in the program across the country. As a culmination of their academic coursework, professional development, and leadership training, the Mandela Washington Fellowship Summit provided all 1,000 Fellows networking opportunities not only with each other, but also with U.S. leaders from the public, private and nonprofit sectors.
In the program's fourth year, this was the first time that USD hosted this program, and was also the only host institution in Southern California. Along with YALI's two other tracks of Civic Leadership and Public Management, USD's track of Business and Entrepreneurship emphasized Social Entrepreneurship — an embodiment of the Kroc School's vision of being the global hub for peacebuilding and social innovation.
While 37 other U.S. colleges and institutions hosted in 2017, the collaboration between the Joan B. Kroc Institute for Peace and Justice (IPJ), the San Diego Diplomacy Council, USD's Center for Peace and Commerce, and USD's School of Leadership and Education Sciences allowed for a truly unique experience. The six-week program — USD-Social Entrepreneurship (USD-SEI) extended beyond the classroom, and incorporated active and engaging components that contributed to devising sustainable solutions to the world's most pressing challenges — what USD's Fellows came here to explore and cultivate.
These components were wide-ranging, and included the Mandela Washington Fellowship Challenge — in which Fellows developed an idea for a social enterprise to implement in their home countries and then presented it to local business and nonprofit leaders. Site visits, community service, and community-based activities (such as staying with a host family), encouraged networking and allowed for a deeper understanding of the San Diego culture and community as did working with peer collaborators (successful entrepreneurs from the San Diego area). Finally, social media was utilized as a way for everyone to stay in contact and share ideas before, during and after the Fellowship.
IPJ Program Officer and Mandela Washington Fellowship Program Manager Tina Medina believes that beyond hosting an exciting and beneficial program for the 25 Fellows, it also provided the IPJ the opportunity to connect with other campus departments and institutes, as well as extend its reach into the larger San Diego community — an invaluable asset to bridging theory and practice in peacebuilding and social innovation.
While in San Diego, the 25 young and dynamic leaders from Africa had remarkable opportunities to make a difference through innovation and social entrepreneurship. The Mandela Washington Fellowship USD-SEI would not have been possible without all the staff, partnerships, collaborators, four IPJ interns and, of course, the Fellows who dedicated many hours and weeks to ensure its smooth implementation and lasting success.