IPJ Welcomes New Interns for Spring 2017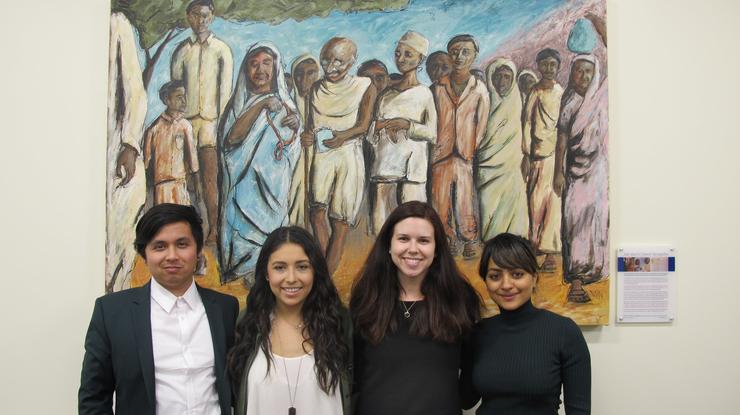 Being a part of the IPJ encourages us to expand our outlook on solutions to peace.
Beginning last week, four undergraduate students from the University of San Diego joined the Joan B. Kroc Institute for Peace and Justice (IPJ) as interns for the spring 2017 semester. Over the course of their twelve week internship, these individuals will support the IPJ's work while gaining first-hand experience with the knowledge and practices necessary to build peace.
Isabella Frediani is a junior at USD majoring in international business and minoring in peacebuilding and social innovation through the Kroc School of Peace Studies. Working on the IPJ's strategic peacebuilding initiatives, Isabella's professional goal is to "merge the peacebuilding world with the corporate world" to create positive change.
Jessica Rasheed joins the IPJ as a junior majoring in economics and minoring in psychology. Throughout her life, she has been committed to addressing gender inequality. As someone raised in the Middle East as an Indian who then pursued her education in Europe and the U.S., Jessica considers herself a global citizen, experiences that will serve her well supporting the Women PeaceMakers Program.
Ryan Samson is a senior majoring in English with a focus on creative writing. As an experienced writer and editor, including in his current position as lead poetry editor at The Alcalá Review, Ryan will provide experienced support to the IPJ's publication efforts. During the semester, he is seeking to gain a deeper understanding of how written media can advance peacebuilding efforts.
Sarah Shotts is a USD senior majoring in sociology. As someone committed to improving cross-cultural understanding and promoting social, economic and environmental justice for all people, Sarah joins the IPJ to support the Women, Peace and Security Program. She hopes to better appreciate the issues women around the world are facing today and how they are overcoming these challenges.
The IPJ staff is excited to welcome all four of these experienced and passionate individuals to the Institute.