Carpenter's Research Triggers Declaration of "Human Trafficking Month" by San Diego City Council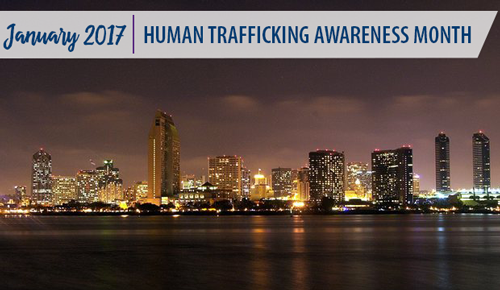 Thanks to the work led by Professor Ami Carpenter of the Kroc School and Professor Jamie Gates from Point Loma Nazarene University, The San Diego City Council will declare January 2017 as Human Trafficking Awareness Month. Four of the Councilmembers, along with City Attorney Mara Elliott, Chief Shelley Zimmerman and Library Director Misty Jones will be speaking on behalf of the city during the announcement.
The council will also be launching the "Blue Ribbon Campaign" to the entire region. The ribbons to be worn in solidarity will read 'End Human Trafficking in SD" and "for help text BeFree".
Please join on Thursday, January 19th at 1:00 PM at City Hall to witness the unveiling of the lobby display "Human Trafficking" in San Diego. The display will educate and promote awareness about San Diego's very real problem and plight against human trafficking in our region.
The City of San Diego Proclamation, is as follows:
Human Trafficking Awareness Month
Presented by Councilmember Lorie Zapf
January 2017
WHEREAS, in an effort to combat human labor and sex trafficking, raise awareness, and connect victims to services, January is recognized as National Slavery and Human Trafficking Prevention month. Between 600,000 to 800,000 people are trafficked across international borders annually, with between 14,500 and 17,500 victims trafficked across the United States border every year, and with the most identified victims being in California; and
WHEREAS, a joint study by the University of San Diego and Point Loma Nazarene University, "Measuring the Nature and Extent of Gang Involvement in Sex Trafficking in San Diego", was one of the largest and most comprehensive human trafficking case studies in the United States to date. The study has produced San Diego County's first credible estimate of sex trafficking victims, an average of 5,000 a year; and
WHEREAS, San Diego is listed in the top 13 "High Intensity Child Prostitution Area" by the FBI. Sex trafficking is San Diego's
2nd largest underground economy after drug trafficking, representing an estimated $810 million in annual revenue. In 2015 the San Diego Human Trafficking Task Force was formed; and
WHEREAS, recruitment for juvenile sex trafficking is occurring in malls, trollies, busses, and even high school and middle school campuses in almost every community throughout San Diego County, with an average age of entry of 16.1 years old. Among victims of juvenile sex trafficking, 55% self-reported that they were homeless and 28% reported that they had been in foster care; and
WHEREAS, at least 110 gangs, various members of organized crime, and some entrepreneurs in San Diego are involved in juvenile sex trafficking, including trans-border criminal networks, with sex trafficking facilitators controlling an average of 4.5 victims each.
WHEREAS, San Diego is a hotspot for international sex trafficking, with 20% of human trafficking victims who are referred to service providers coming from Mexico and 10 other countries; and
WHEREAS, the City of San Diego is launching a campaign to combat juvenile sex trafficking within the city, and City of San Diego employees will be wearing Blue Ribbons to raise awareness and to show solidarity with victims of human trafficking. Victims and survivors of human trafficking can message the BeFree Textline (233733) to get help or to connect with local services,
NOW THEREFORE BE IT PROCLAIMED, by the Council for the City of San Diego that this Council, for and on behalf of the people of San Diego does hereby proclaim January 2017, to be "Human Trafficking Awareness Month" in the City of San Diego.