Subscribe to our Newsletter
Sign up for Kroc School News and Events
Join nearly 10,000 Changemakers when you subscribe to the Kroc School's monthly e-newsletters.
Subscribe
Master's in Peace and Justice Student Helps Make History in Laos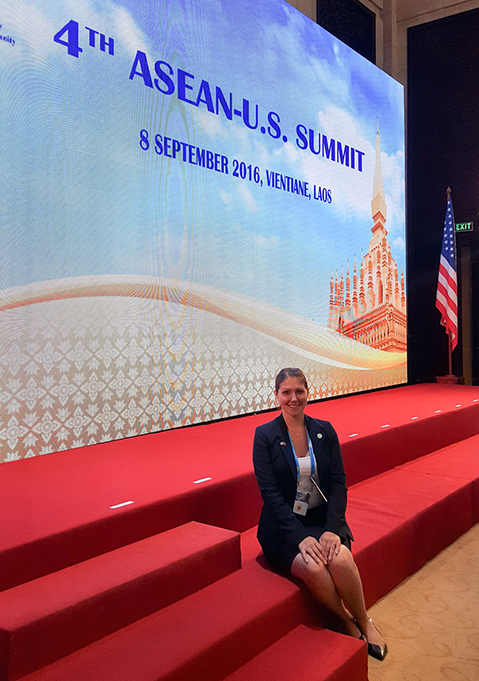 begin quote

My internship culminated in the East Asia Summit, which the President was attending, where my hard work was rewarded with a one-on-one photo with President Obama.
By current MA in Peace and Justice student Kajsa Hendrickson
I spent the summer of 2016 achieving a lifelong goal: serving as a diplomat with the U.S. Foreign Service. I was offered an internship with the Department of State at the U.S. Embassy Vientiane, Laos, which I applied to specifically with the hopes that a small embassy would provide me with a better opportunity to do real, meaningful work. This hope proved true – the Embassy and its staff offered me more professional and academic growth opportunities than I could have imagined. My internship, and the opportunities it offered wouldn't have been possible without support from the Kroc School of Peace Studies. Through school internship funding I was able to take advantage of this internship. Through the Student Opportunity Grant (SOG), I was able extend my internship in Laos, work at the East Asia Summit, and ultimately meet the President of the United States.
My experience at Embassy Vientiane has two distinct parts: diplomatic section work, and political-visit work. My internship was in the Political/Economic (Pol/Econ) Section, the information-gathering arm of a U.S. embassy. This offered me the chance to analyze a variety of topics pertinent to the U.S. Mission in Laos. As a Pol/Econ intern I was treated as a Foreign Service Officer, sent to meetings and to do research independently. I met with representatives from the United Nations, the Asian Development Bank, the Department of Defense, and the Lao Ministry of Health, Ministry of Energy and Mines, and Ministry of Foreign Affairs. I did primary research into global health, human rights (including human trafficking and LGBT rights) and sustainable development. My work involved taking these complex issues, analyzing them, and then synthesizing succinct briefings to be sent back to Washington DC for review. I saw firsthand how a variety of government (Defense, State, Lao government) and non-governmental (NGOS, multinationals, international financial institutions, civil society) stakeholders are working collaboratively in Laos to help the country address educational, environmental, and health challenges.
In 2016, Laos held the Association for South East Asian Nations (ASEAN) Chairmanship, making it central in regional and international politics. As such, the Embassy would be host to several high-level political visits, rare for Laos, which I would be working on. These visits included Secretary of State John Kerry, Deputy National Security Advisor Ben Rhodes and the historic visit of President Barack Obama. I was the Site Officer at the National Convention Center, where all 2016 ASEAN meetings were held. During Secretary Kerry's visit, this meant overseeing all U.S. Embassy movements and logistics at the NCC, requiring program management, negotiation and leadership skills. Because of my work during Kerry's visit, I was asked to extend my internship to work as the NCC Site Officer for President Barack Obama's visit – where he would be the first U.S. President in history to visit Laos. Unable to afford to extend my internship for four additional weeks, I assumed that the opportunity wasn't possible. I applied for Kroc School's SOG to cover the cost of flying back to Laos for the President's visit.
Through the School's generosity and the support of its dedicated faculty, I was able to return to Laos on August 25th to begin working on the President's visit taking place September 5th through 8th. I worked closely with a White House team assigned to the NCC, planning movements, coordinating logistics, and negotiating with Lao government representatives. One of my key tasks was to maintain and build on relationships with my Lao counterparts, while meeting the White House's objectives, regardless of the disparate goals each had. This included mediating between the U.S. Secret Service and the head of the Lao Police, a Brigadier General. Each task challenged me and helped me grow as a peacebuilder, mediator, and diplomat. My internship culminated in the East Asia Summit, which the President was attending, where my hard work was rewarded with a one-on-one photo with President Obama.
Throughout my time in Laos, I utilized the skills and knowledge that I have gained from my Master of Arts in Peace and Justice program. I was able to step into the Embassy with gentler learning curve because of the preparation that my professors and classes provided. I had a comprehensive understanding of international development and how it has impacted Laos, due to my coursework with Dr. Necla Tschirgi. I wrote comfortably on human rights issues because of courses with Dr. Dustin Sharp. Negotiation and mediation were fundamentally part of everything I did, every interaction I had. The skills and tactics I gained from Dr. Carpenter and were critical to my ability to negotiate well and maintain relationships between U.S. and Lao personnel. The MAPJ enabled me to work in the Embassy. Foreign Service Officers are required to be generalists, with an understanding of political science, international development, economics, conflict resolution, public relations, and cultural competency. No other graduate program that I was accepted to could have better prepared me for this.
I would not have been able to take advantage of this incredible opportunity if not for the support of the Kroc School, its staff, and faculty. My internship with the Foreign Service expanded my professional knowledge, greatly developed my skills, and reaffirmed my dedication to international peacebuilding through diplomacy. Most importantly, my internship taught me that diplomacy, and diplomats, are everywhere. Diplomacy happens in non-governmental organizations, in defense organizations, in the military, in companies, and in the Department of State. Each of these groups plays a different role in diplomacy. Some practice direct diplomacy, while others work indirectly through organizations or governments, but they all work in a dynamic, challenging, and interconnected system, together.