Subscribe to our Newsletter
Sign up for Kroc School News and Events
Join nearly 10,000 Changemakers when you subscribe to the Kroc School's monthly e-newsletters.
Subscribe
War, Gender, and Peacebuilding Class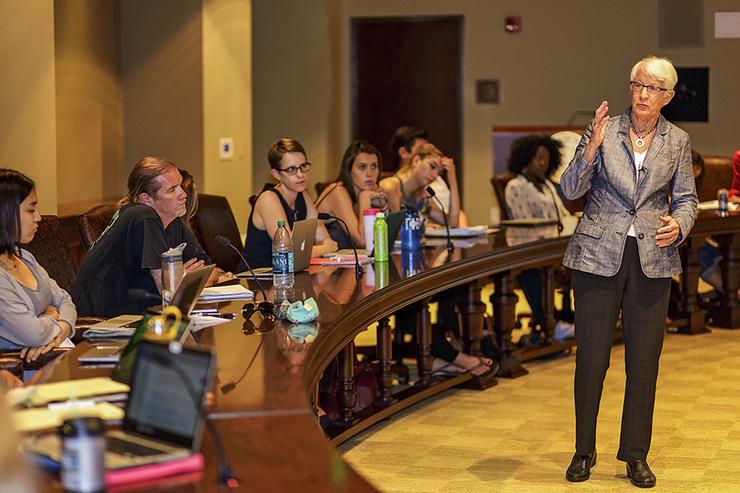 Each year, four exceptional women peacebuilders come to the Institute for Peace and Justice at the Kroc School for an eight-week residency. The creative solutions they develop in conflict situations are shared with students and the community through lectures, conferences, networking initiatives and the War, Gender and Peacebuilder Class. The class, which is open to all University of San Diego graduate students as well as undergraduate students minoring in Peacebuilding and Social Innovation, is offered every fall.
Students who took the class last fall share their thoughts:
What is it like having these inspiring women as "co-teachers" in the War, Gender, and Peacebuilding course?
"Being so close to these women is so powerful. It's really a unique opportunity to be able to learn so much about their personal journeys towards peacebuilding and their perspective on what conflict currently and historically looks like in their country. Reading a book about peacebuilding is so incredibly different than sitting in a room with a peacebuilder listening to them share their innermost, soulful understanding of it with you." -Jessica Ciccarelli, MAPJ student
"Having the PeaceMakers as co-teachers in the War, Gender and Peacebuilding course is a great advantage as it enables students to have a firsthand experience from the conflict that we study in many of our peace studies. I do acknowledge the work of professors, however, learning from someone who has had a direct experience with the real crisis or issues is phenomenal." -Nadine Umutoni, MAPJ student
"It has been amazing! I loved the proximity with which we were able to converse in our classroom with these exceptional women." -Nancy Cordova, MAPJ student
Does the active involvement of women peacemakers in the classroom activate any sort of emotion or connection?
"It is one thing to read an article and have numerous readings in class, and it is also another thing to really focus on a speaker whose life experience is not only featured in the articles we have read, but also who has personally experienced the real situation. What feeling I have for these peacemakers is nothing short of respect. I respect their braveness to firmly speak on their life stories regardless of how painful it is. I respect them for their willingness to share their time with us as it has personally helped me grow as an individual." -Nadine Umutoni
"Yes, definitely. For instance, I had heard about apartheid, but listening to a survivor, to someone who spent three years in prison enduring torture, gave us the opportunity to connect emotionally in a more profound manner." -Nancy Cordova
Has this course inspired you to further instill gender equality and peace in our own community? If so, how?
"Yes, listening to these brave women's stories, I am inspired that I too can make a positive change in this world, regardless of how many people I impact, as long as I have been of good impact to someone's life." -Nadine Umutoni
Going through these four journeys with the international women, which one had the most influence on you and why?
"To be frank, coming from an African country, and having a slightly good background on the history of the nations of Namibia and South Africa, I have been deeply influenced by these two African speakers. However, I have also learned a lot from Dr. Golan and Judge Ayoubi, and even though I do not have a good background on Israel or Afghanistan, I have come to understand the conflicts that present themselves in these nations, and how women have been effective actors in restoring peace." -Nadine Umutoni
Would you recommend this class to other students?
"Yes. The participation of Women Peacemakers in class gave us the opportunity to have lectures and dialogue directly with witnesses and activists of those particular conflicts. Learning about their perspective was eye opening." -Kate Lee, MAPJ student
"Yes, I would recommend this class to other students especially if they are interested in learning the firsthand experience of what peacemakers who do not have much support, and who sometimes have to risk their lives really do go through." -Nadine Umutoni
Learn more about our Master's in Peace and Justice. The Kroc School of Peace Studies also offers a minor in Peacebuilding and Social Innovation as well as a Master's in Social Innovation.
For more information on the Women's PeaceMakers program, please visit: http://www.sandiego.edu/peacestudies/institutes/ipj/programs/women-peacemakers/