Subscribe to our Newsletter
Sign up for Kroc School News and Events
Join nearly 10,000 Changemakers when you subscribe to the Kroc School's monthly e-newsletters.
Subscribe
Conflict Resolution Workshops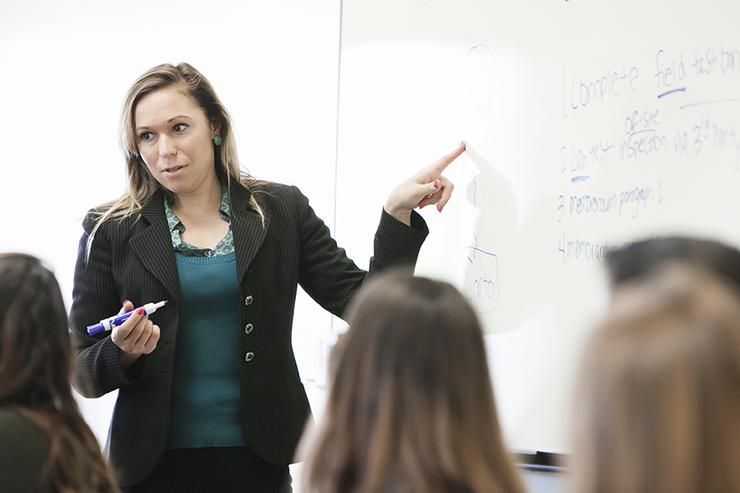 In the past, the Kroc School of Peace Studies offered engaging workshops on conflict resolution and mediation. The workshops our faculty offer change from semester to semester and conflict resolution workshops are likely to be offered again in the near future. Please find a list of previous conflict resolution and mediation workshops below:
PJS 594 Workshop: Mediation
This mediation workshop is for persons who want to learn mediation skills and techniques for violence prevention and dispute resolution, such as impartiality, reframing, and active listening. Instructors incorporate a variety of strategies, tactics and lessons learned from community, gang-related, environmental, work-place and international mediations.
PJS 594 Workshop: Dialogue Facilitation
Facilitating dialogue is a critical skill for fostering constructive conversations on divisive issues. The word dialogue, from the roots "dia" and "logos", means meaning flowing through. Different from debate, negotiation, or mediation, dialogue is not about winning and losing, or coming up with 'solutions' and 'agreements'. It is about gaining understanding, fostering conversations that building relationships, trust and collaboration.
PJS 594 Workshop: Interpersonal Conflict Resolution
Interpersonal conflict resolution has two components: accurately diagnosing the causes of conflict, and skillfully and effectively taking steps to resolve it. This workshop introduces diagnostic models and effective strategies that help people communicate more effectively to resolve their differences.
PJS 594 Workshop: Restorative Justice
Restorative justice conferencing refers to processes that facilitate restorative dialogue and problem-solving among victims, offenders, family members, and other support persons or community members. The 2-day training introduced three established expressions of restorative justice conferencing: victim offender mediation, peacemaking/sentencing circles, and reparative community boards before which offenders appear.
PJS 594 (08) Workshop: This Photographic Life: An Introduction
"This Photographic Life" goes into what it takes to be a photographer today in the world. The class worked on how to tell stories with cameras, ethics in journalism, basics of visual communication, how to approach subjects in a sensitive manner, the changing visual landscape of documentary today and finally, some basic skills of editing photography.
PJS 594 (06) Workshop: The Peacebuilder: Call to Personal Transformation
The work of peacemaking hinges in no small part on the person of the peacebuilder. In addition to learning theory and methods of analysis, the rigorous work of conflict resolution for peace requires deep personal resources grounded in spirituality. Spirituality is understood as the ongoing search for the ultimate values which guide our lives. Such a resource is especially important for the peacebuilder who will enter real conflict or post-conflict situations.
PJS 594 (07) Workshop: Conflict Resolution for Leaders: The Exchange Method
Conflict Resolution for Leaders provides local leaders, students and civic-minded citizens necessary tools to de-escalate conflict through alternative dispute resolution techniques. It is a practical and interactive course that offers a step-by-step approach for resolving conflicts involving diverse communities and work-places. Students learned a set of specific communication skills for conflict situations, learn and demonstrate facility in using the step-by-step approach for mediating conflict and be able to articulate the theoretical links between conflict resolution and enhanced interpersonal and small group interaction.