Patricia Márquez, PhD, Named Dean of Kroc School of Peace Studies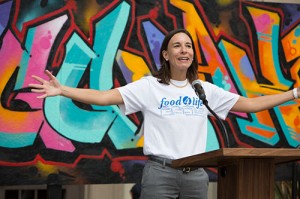 Patricia Márquez, PhD, became dean of the Joan B. Kroc School of Peace Studies (KSPS) beginning August 1, 2014 for a three-year term. Dr. Márquez is the Kroc School's third dean since its inception in 2007.
Dr. Márquez sees the fulfillment of Mrs. Kroc's vision to be her primary goal in moving the school forward. "The Kroc School has a most powerful vision laid out by Mrs. Kroc: '… to build a unique school for scholars and practitioners to advance the work of peace and justice.' My goal is to lead the school to fulfill that vision."
Dr. Márquez earned her PhD in anthropology from the University of California at Berkeley in which she studied street children in Caracas, Venezuela. Her field-based research in Latin America explores how market mechanisms and entrepreneurship can generate greater inclusion and justice among people living in poverty around the world. She is widely recognized as an innovator expanding the boundaries of multidisciplinary thinking and action through field-based courses in various parts of the world such as Brazil, Uganda and Ghana. As the former dean of one of the premier business schools in Latin America, Instituto de Estudios Superiores de Administración, Dr. Márquez brings extensive managerial and leadership experience to her new post.
USD President Mary E. Lyons said of Dr. Márquez, "Patricia's dedication to her students, to responsible entrepreneurship, and to the Changemaker Hub has been tireless and invaluable. Her immense skills and knowledge will only benefit the Kroc School for Peace Studies. I look forward to working with her and the KSPS."
After being a Cisneros Visiting Scholar at Harvard's David Rockefeller Center for Latin American Studies and the Harvard Business School from 2005-2006, Dr. Márquez joined the management department in USD's School of Business Administration where she is currently a tenured associate professor. At the School of Business Administration, she has taught courses on entrepreneurship for social change, business and society, and business initiatives with the socioeconomic base-of-the-pyramid. Dr. Márquez has served as the director of the Center for Peace and Commerce, a joint initiative between the School of Business Administration and the Kroc School of Peace Studies. Under her leadership, in 2011 the CPC launched the Social Innovation Challenge, which is now offered to all USD students. In 2012 Dr. Márquez became the director of the USD Changemaker Hub, a collaborative model to support and promote creativity, connectivity, and innovation for sustainability and social change.
Moving forward, Dr. Márquez hopes that the Kroc School will continue to be a force for peaceful conflict resolution in a world rich with strife. "With rising conflicts and injustices, much energy seems to go into institutions focusing on war as opposed to peace building and justice creation. KSPS is one of the few schools of its nature in the world with innovative approaches to integrating thinking and action for peace and justice."
– Melissa Wagoner Olesen