The Humanitarian Crisis Facing Central American Children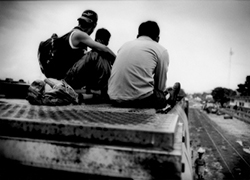 Public Forum: The Humanitarian Crisis Facing Central American Children and What You Can Do to Help
The Trans-Border Institute hosted a public forum on the nature of the humanitarian crisis facing unaccompanied Central American children arriving on our border, and what members of our community can do if they want to help to alleviate this crisis.
TBI Director Ev Meade provided a general overview of the issue, emphasizing: how many children are coming and where from; what we know about the conditions they face in their home countries and in transit; and how the present crisis fits into broader global and historical patterns.
Distinguished USD alum Enrique Morones, Director of Border Angels, discussed what we've learned about the perilous journey these children made to get here and how they've been received in our communities; the multi-faceted effort to provide social services, shelter, food, and clothing to these children here in Southern California; and how concerned community members can contribute to this effort.
Representatives of Casa Cornelia Law Center explained the legal issues facing these children; their experiences in representing children at different stages of their immigration claims; and the broader challenges their young clients face in the United States.
See the introductory presentation slides.