'Lessons Learned from Rwanda' Video Now Available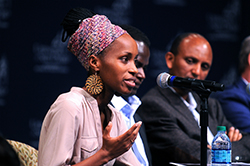 The panel discussion of "Preventing Mass Atrocities: Lessons Learned from Rwanda" is now available to watch online. The discussion served as the opening event for a photography exhibit produced by University of San Diego's University Galleries and Joan B. Kroc School of Peace Studies.

Rwanda, 1994-2014: Seven Photographers brought together more than two dozen works by leading photographers and conceptual artists who were in Rwanda at the time of the genocide or had visited the nation since.
Panelists:
- Dida Nibagwire, a Rwandan genocide survivor who is now an actress in Rwanda
- Daniel Bekele, Executive Director of the Africa Division of Human Rights Watch
- Philip Lancaster, aide to General Romeo Dallaire in Rwanda during the genocide
- Paige Stoyer, a photographer who has been working in Rwanda with Global Press Institute to train women journalists
- Eugene Gatari, a USD alumnus of the master's program in peace and justice studies from Rwanda, now a fellow at Harvard's Kennedy School for Public Policy
Moderated by Dustin Sharp, JD, assistant professor at Kroc School of Peace Studies.
Read an op-ed from Kroc School faculty member Dustin Sharp and Derrick Cartwright, director of University Galleries, or other related reading:

"Rwanda, 20 years later -- in photos and memories" by Peter Rowe, UT San Diego
"Revisiting Rwanda 20 Years Later" by Kristen Darling '15, Inside USD
Co-sponsored by USD's Department of Political Science and International Relations, Center for Christian Spirituality and Center for Community Service Learning.